DCU Theory - Here's How Shazam 2 Fits Into James Gunn's New Universe,"Shazam! Fury of the Gods" may be more than a vestige of the previous DCU regime. It could springboard the character into James Gunn's new DC universe.
DCU Theory – Here's How Shazam 2 Fits Into James Gunn's New Universe
2023's DC movies are in a bit of a precarious position. All four films coming out this year — "Shazam! Fury of the Gods," "The Flash," "Blue Beetle," and the "Aquaman" sequel — are seemingly connected with the old DC Extended Universe. However, new DC heads James Gunn and Peter Safran recently unveiled the new line-up of DCU movies, including works like "Superman: Legacy" and "The Brave and the Bold." It would seem to many that DC is simply clearing out its slate to make way for new iterations of the iconic characters, with Henry Cavill no longer playing Superman and a new, non-Affleck version of Batman entering the fray.
However, based on everything we know, there could still be a future for characters introduced in the old universe. After all, "Peacemaker" will get a second season, and there's a proposed TV series centering on Amanda Waller, who we'll assume will continue to be played by Viola Davis. 
There's even hope for Shazam. While there are no guarantees, "Shazam!" series director David F. Sandberg took to Twitter to mention how the character of Shazam (Zachary Levi) could fit into these future DC plans, saying, "What I've been told is that there's nothing in the Shazam films that contradict the future plans for DC. So the possibility for more Shazam is there and if that's what you want your best bet is to go see the film."
So yes, it's possible "Shazam! Fury of the Gods" could be the end of the road for the character if the film doesn't hit well enough with audiences. For the sake of argument, though, let's say fans love it. Let's say Gunn and Safran love it. If so, here's how Billy Batson could factor into the new DCU.
The DCU's Gods and Monsters could use more gods, and Shazam fits the bill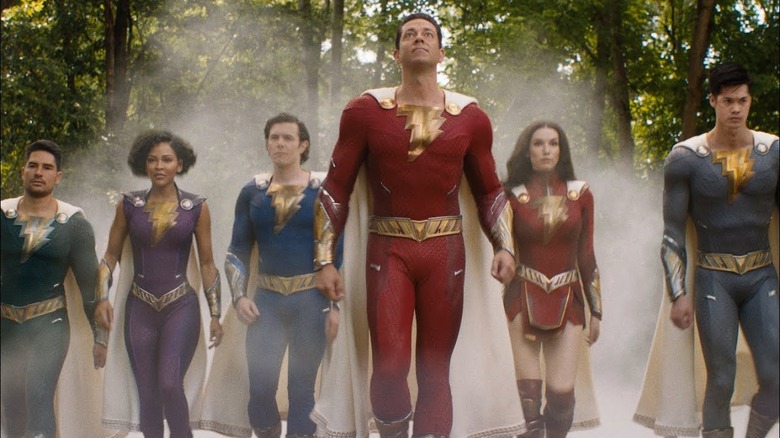 Warner Bros. Pictures
Earlier this year, James Gunn and Peter Safran announced 10 projects that would comprise the DCU's new Chapter One: Gods and Monsters (not accounting for Elseworlds projects set outside this main continuity, like "Joker: Folie à Deux"). If the "Shazam!" sequel proves to be a financial success, DC would be leaving money on the table letting the franchise die.
While a third "Shazam!" installment wasn't part of Gunn's plans, this character and his friends would be rather easy to port into the post-reset DCU. Shazam and the Shazam fam occupy their own corner of the previous DC regime, not being a part of the previously catastrophic "Justice League" team-up. Yes, based on a rather revealing TV spot, Wonder Woman (Gal Gadot) will appear in "Shazam! Fury of the Gods" — which would seem to further tie him into the old guard — but it's still possible that she'll also carry over into the new DCU, and such connections would be pretty easy to ignore going forward if "The Flash" serves as a hard reset.
Seeing how Shazam draws elements from ancient mythology, he'd seem like a natural fit for the "Gods" portion of DC's Chapter One: Gods and Monsters. Shazam is a pure spirit, in the vein of Superman. Such characters would serve in contrast to the more morally ambiguous characters we're also getting in projects like "The Authority" and "Swamp Thing." All this could lead to a thrilling culmination that Gunn and Safran seemingly want to venture into.
C'mon, James Gunn, let's bring on the DCU's Kingdom Come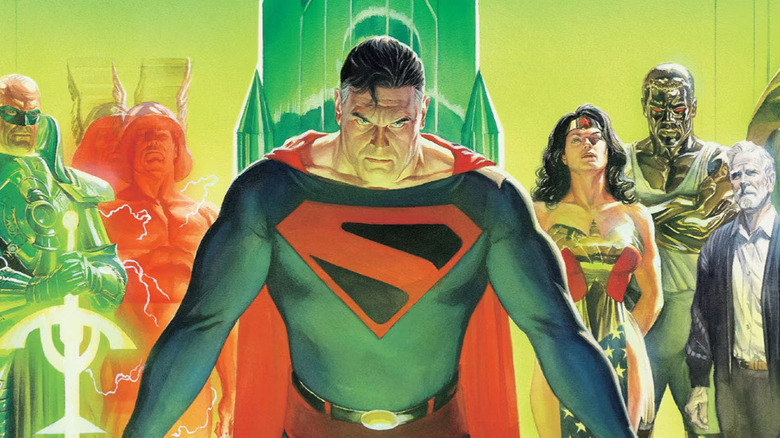 DC Comics/Alex Ross
What's interesting about the DCU's Chapter One: Gods and Monsters is that it doesn't seemingly end with a big team-up film, unlike the MCU's phases. Gunn said he's planning a 10-year, two-chapter story, so it's possible everything he's building up to will lead to something amazing in that second chapter.
So, what could that crossover event be? Imagine this, if you want to feel chills: "Kingdom Come."
Gunn has already expressed interest in this story, posting on Instagram an image from the comic book with the simple caption, "Making plans." And hearing him talk about his plans for the DC universe suggests "Kingdom Come" is what he's building toward. In an interview with Collider, he expressed, "I think our stories in general are, we want to take it away from good guy versus bad guy, and there's all sorts of really, really almost saintly people, Superman is among them. There are really terrible villains like Gorilla Grodd, or Joker, and then there's everybody in between. So there's all these shades of grey of these different types of character, which allows us to tell more complex storytelling."
For those not in the know, "Kingdom Come" tells the story of a world upended when a new hero, Magog, kills a prominent villain, blurring the lines between good and evil. Magog is joined by other heroes who don't mind killing and destruction, forcing Superman to rebuild the Justice League. It results in a showdown between the old and new guards. "Kingdom Come" perfectly showcases those "shades of grey" Gunn mentioned, because long-established heroes are forced to confront whether they are truly effective in keeping the world safe. And if Gunn is indeed building toward this story, Shazam needs to be there. 
Kingdom Come would bring some darker shades to Shazam's lighthearted character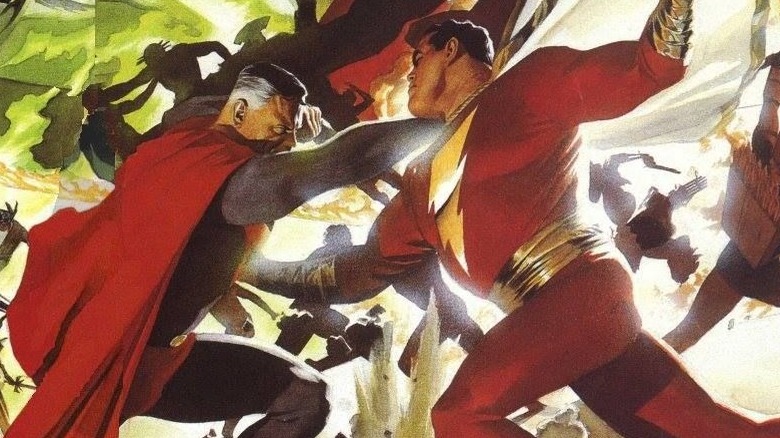 Warner Bros. Pictures/DC Films
James Gunn may not only be establishing mainstay DC heroes like Superman and Batman, but he could also be setting up a slightly different take on the antagonists of "Kingdom Come." That is, while it currently feels out of left field for the Authority to come into the picture, here's an idea — what if they're going to be the Magog-style antagonists of the DCU's Kingdom Come? They fit that description. The Authority are antiheroes who get the job done by any means necessary, so they could function as an intriguing foil to the standards set by purer superheroes like Superman and Wonder Woman.
And if Gunn is doing Kingdom Come, there's no better part to adapt than Shazam's role, particularly if he uses Zachary Levi's version. The comic book incarnation of Shazam (aka Captain Marvel, but we won't go there) features prominently in "Kingdom Come," initially introduced as being brainwashed by Lex Luthor, and doing battle directly against Superman himself. In "Kingdom Come," the character isn't just a goofy version of Superman — he's a complex figure forced on the wrong side of a battle. Levi himself wants to see "Kingdom Come" adapted, even name-dropping the comic in a Den of Geek interview. 
It feels too perfect. But again, who knows if this storyline is even what Gunn has planned? And even if he is, he doesn't have to use Shazam. But wouldn't it be more fun this way — and more rewarding for the cast and crew of the "Shazam" movies? And what a contrast this would make from the boyish Shazam we've seen thus far, right?