Keanu Reeves On What Brought Him Back For John Wick: Chapter 4 And More – Exclusive Interview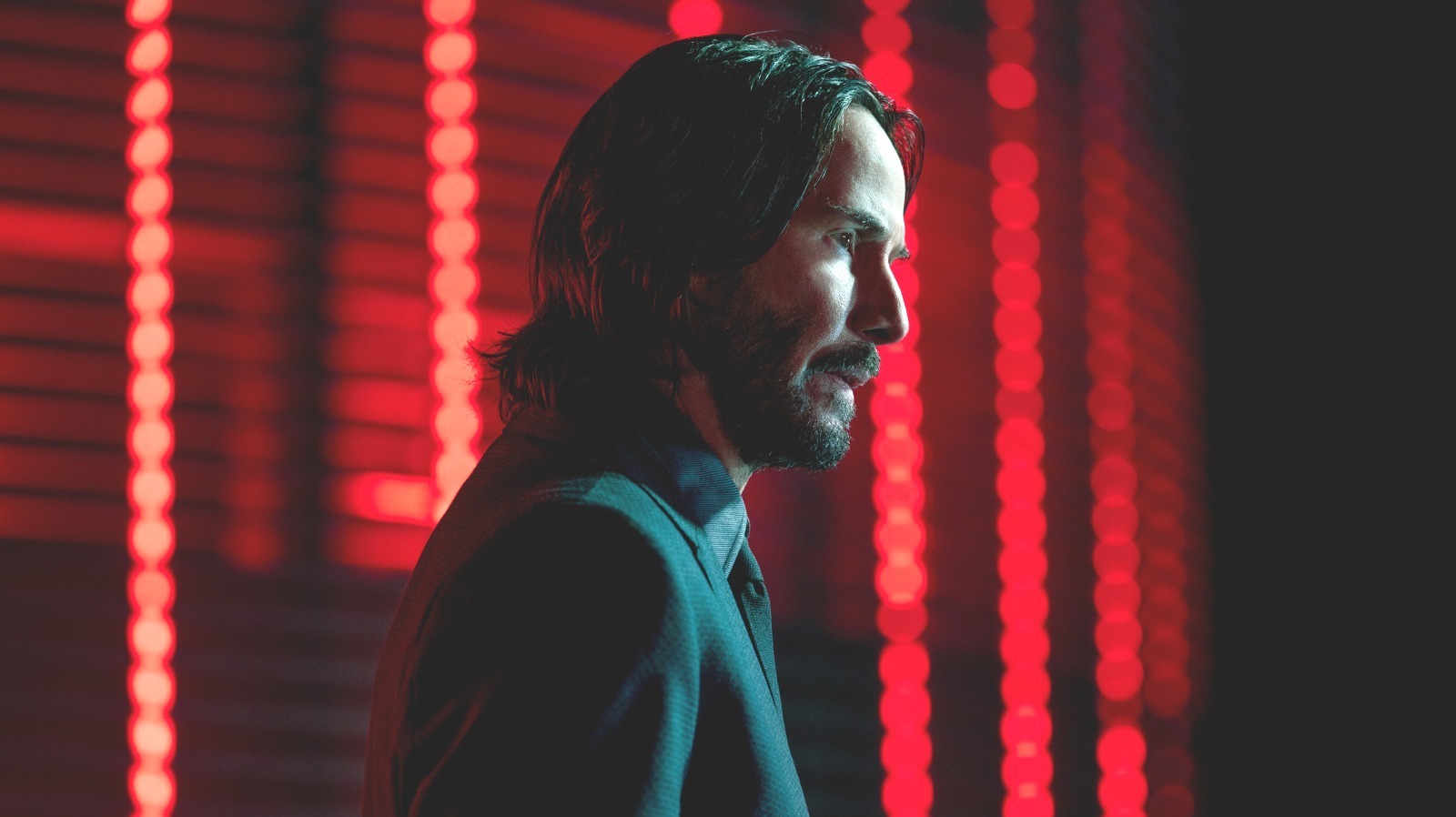 Keanu Reeves On What Brought Him Back For John Wick: Chapter 4 And More - Exclusive Interview,Keanu Reeves explained why he came back for "John Wick: Chapter 4," why he has enjoyed revisiting some of his other iconic characters, and more.
Keanu Reeves On What Brought Him Back For John Wick: Chapter 4 And More – Exclusive Interview
Keanu Reeves returns as the title character in "John Wick: Chapter 4," the latest and arguably biggest entry yet in this surreal, constantly surprising action saga. Following the cliffhanger at the end of "John Wick: Chapter 3 – Parabellum," an injured John whips himself back into shape and decides he's had enough. He takes his fight to be free of his criminal obligations directly to the High Table itself, but his aggressive actions only lead to shocking reprisals from the top echelons of the criminal underworld.
In addition to Reeves, Ian McShane, Laurence Fishburne, and Lance Reddick return as Winston, the Bowery King, and Charon, respectively, with all of them now stakeholders in John's fate. New allies include Shimazu Koji (Hiroyuki Sanada), manager of the Osaka Continental, while the roster of enemies is led by the Marquis Vincent de Gramont (Bill Skarsgård), the High Table's most malevolent representative yet, and Killa (Scott Adkins), a German crime boss as grotesque as he is dangerous.
In addition to the legions of mercenaries that pursue John around the globe, there are two more killers the Marquis puts on John's tail: The Tracker (Shamier Anderson), an old-school hitman accompanied by his faithful dog, and Caine (martial arts legend Donnie Yen), a blind assassin as lethal and as weary of killing as his old friend John.
With this powerhouse lineup, Reeves and director Chad Stahelski present some of the series' most jaw-dropping, stylized action and fight sequences yet, while also expanding the weird, reality-adjacent universe of "John Wick" in new directions. As for Reeves, he told Looper in our exclusive interview that he, Stahelski, and the series keep setting new standards for themselves: "That's the greatest challenge, to be able to hit that John Wick bar day after day."
Setting new standards with John Wick: Chapter 4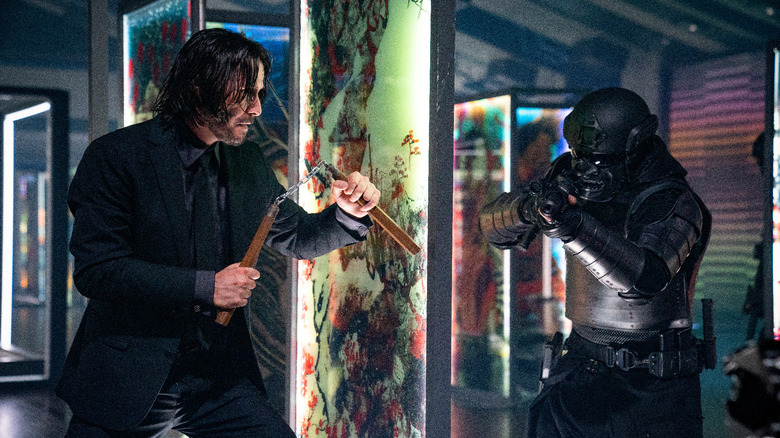 Lionsgate
Four movies in, what keeps you coming back to this character and this world?
Love. I love playing the role. I love the world of "John Wick." I love the opportunity and the storytelling. We really are inventing it, and I'm a part of that. It's great to play in the sandbox of the "John Wick" world and to continue to explore and create.
You get to work with two martial arts legends in this movie, Donnie and Hiroyuki.
Three — Scott Adkins.
That's right. What do you take away from these guys and learn from them?
Wow — they are three such high, real martial artists. I'm a movie martial artist; they're real. What does that mean? When you marry that with the technique of filmmaking, their control, their speed, the way that they cooperate, especially in timing …
I've worked with Hiroyuki twice, and to know that how he … If he's fighting you and you're behind him, he'll do something to fill that gap to keep it alive. Donnie Yen can improvise yet take care of you and [has] his speed and his skill. Scott Adkins' technique, his passion, is on another level. Seeing those kinds of things with those three artists, I really appreciated.
What pushed you or challenged you on this film physically?
Being able to do the whole thing. We filmed over 100 days, and we filmed mostly nights. When we do an action sequence, it's about 10, 11 hours, so it's getting up and doing it again and doing it again and trying to realize the dream of the sequence. It's recovery … but that's the greatest challenge, to be able to hit that John Wick bar day after day.
How Keanu Reeves feels about reprising his famous roles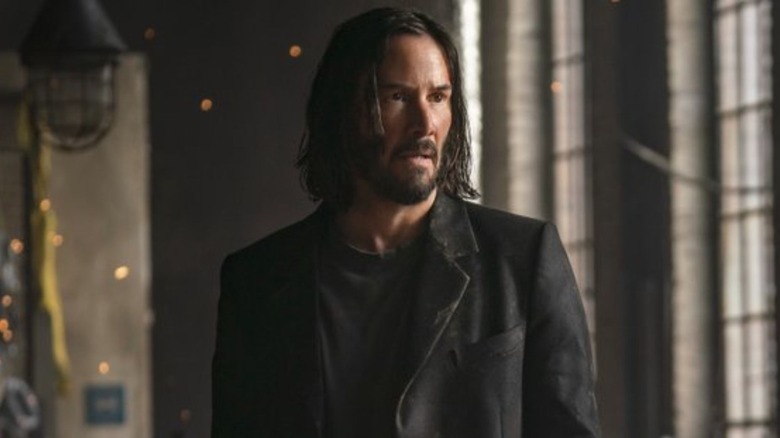 Warner Bros. Pictures
You've done four "John Wick" movies. You've recently revisited characters like Ted Logan in "Bill & Ted Face the Music" and Neo in "The Matrix Resurrections." We may see you return as John Constantine. What do you get out of that, and are there other characters that you would like to revisit?
It's cool … I never expected that starting out, so to have the opportunity to reprise roles, especially roles that you love, is a special thing. I acknowledge that. To be in "John Wick: Chapter 4" is like, "What?" In terms of reprising a role, I don't know — let's throw Jack Traven from "Speed" in the Wayback Machine.
A lot of people would probably like to see that.
Yeah, maybe.
Is Constantine still a go with all the changes at DC?
No, I think they're trying to figure out what to do with that. Hopefully, I can reprise the role of John Constantine, but it remains to be seen. I hope so.
Most of your franchises are all set in original worlds, but people have tried to place you in the Marvel Universe too. Could you come into a pre-established world at this point and find a spot in there?
That would be fun. I love those movies. It's great to be in that kind of make-believe land and be in those big movies and have fun like that. Hopefully, one day, they can find something that I'm suitable for.
"John Wick: Chapter 4" opens in theaters on March 24.
This interview has been edited for clarity.