Switch Up Your Everyday Jewelry By Adding Black Gold To Your Collection - Glam,Black gold is the latest jewelry trend that looks to captivate jewelry wearers who seek something new and uncommon. Here's how to showcase this instant classic.
Switch Up Your Everyday Jewelry By Adding Black Gold To Your Collection – Glam
When it comes to jewelry, everyone knows about the classics like gold and sterling silver. These two timeless and classic metals are the go-to for anyone looking to invest in jewelry. But although these two metals will never go out of style, newer metal combinations are starting to catch the attention of jewelry lovers. Newer mixes (like white gold and rose gold) are some of the latest metals to see a rise in popularity. Even though both derive from gold, they are unique in their ways. These modern twists are perfect for those who are looking for pieces with a fresher and more modern look. Recently, another variation of gold has started to see a spike in interest from those looking to make a bold statement with their jewelry.
Black gold is the latest jewelry trend that looks to captivate jewelry wearers who seek something new and uncommon. Lexie Jordan Jewelry explains that black gold is indeed gold, but it's had its color changed by manufacturers. By mixing yellow gold with a darker metal (mainly cobalt), you can achieve this smoky and dark color with subtle hints of its gold origin. You can also obtain black gold by simply plating, or covering, yellow gold with a black finish. While the results may be similar, this process may require more care to prevent the plating from fading. But since black is already a classic, black gold's color is the perfect way to add something new to your outfit.
A versatile option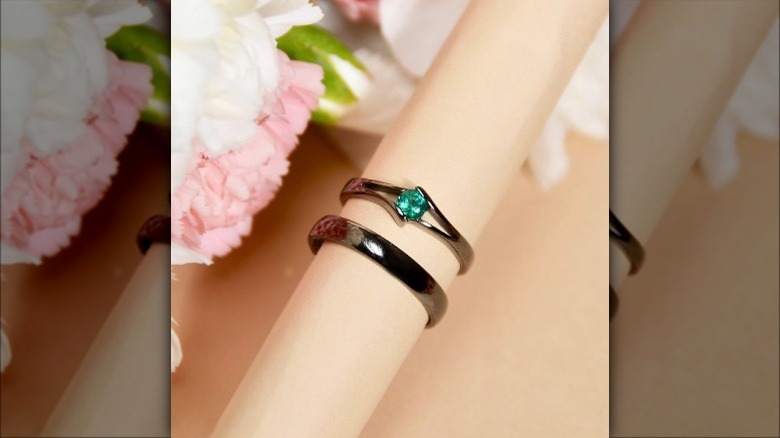 Instagram
One of the problems with wearing gold or silver jewelry is the fact that you can seldom mix and match metals. Many times picking one means you have to stick with the same metal throughout your whole look. With black gold, you can easily wear any other metal piece for a seamless combination. These pieces can also be easily paired with a variety of outfits and colors. It can add a touch of elegance to formal attire or a hint of edginess to a casual outfit. No matter what you are wearing, you can trust that black gold will add the ideal complement to your look.
A durable investment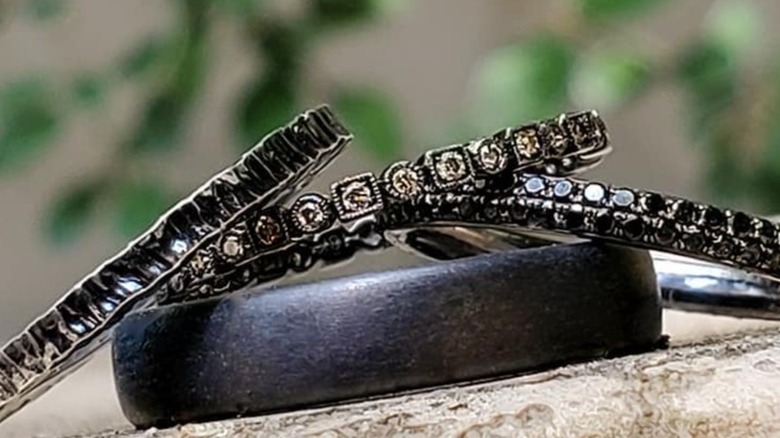 Instagram
Because there are various ways to achieve black gold, you can be assured that the gold aspect of your jewelry will remain resistant and untarnished. Black gold can be created by coating white gold or yellow gold with black rhodium plating. This plating makes the jewelry more resistant to scratches and tarnishing than regular gold. Acting as a shield for the gold, the black plating on these pieces will protect the gold layer underneath from damage. While this may involve replating in the future, you can be certain that this piece is durable enough to last you a long time.
Stand out from the crowd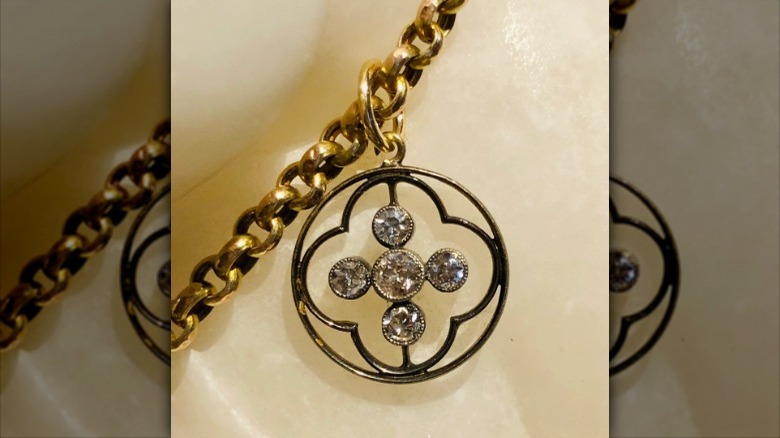 Instagram
When people think of jewelry, they seldom think of black gold pieces. Usually, the thought goes directly to the more common metals in the market. This unexpected twist on gold is perfect to add something different to your outfit or jewelry collection. The black color of this jewelry gives it a distinct appearance that stands out from traditional gold or silver jewelry — and a unique look that has yet to be replicated. Giving you an edgier appearance, black gold is a modern surprise and stands out from classics like yellow gold or silver.
Affordability is key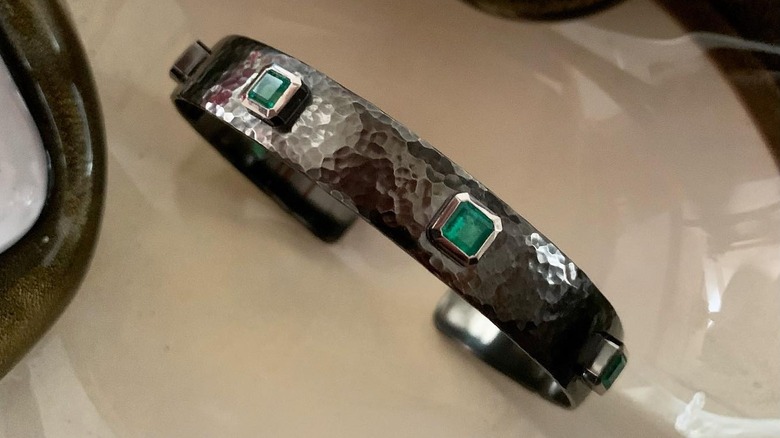 Instagram
Investing in high-end pieces like gold can come with an equally high-end price. Black gold jewelry is a comfortable compromise that will still give you timelessness without the heavy price tag. Depending on how your black gold jewelry is made, you can find that some of these pieces will come at a significantly lower price than your typical pieces. Because black gold jewelry is often made by coating less expensive metals with black rhodium, it can be a more affordable alternative to traditional gold or platinum jewelry. With black gold starting to catch attention, it's also safe to assume your investment in black gold will only increase in the future.
Classic and chic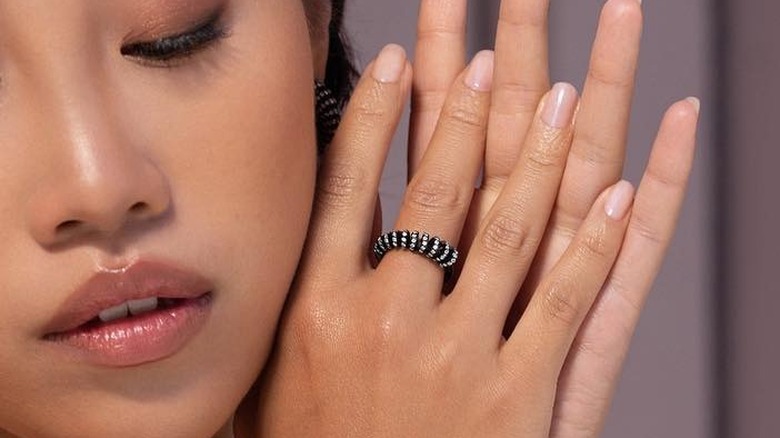 Instagram
Black gold jewelry has a timeless quality to it, meaning it won't go out of style and can be worn for many years to come. Although new, these pieces are protected by the fact that their coloring will always be versatile, no matter what's in style in the future. Like with clothing, black gold will always have a place in your jewelry collection. It can easily be matched with any other piece or outfit. Even though it's too early in its popularity to know the effects black gold will have on jewelry trends, there's no doubt that black gold has become an instant classic.
Works well with others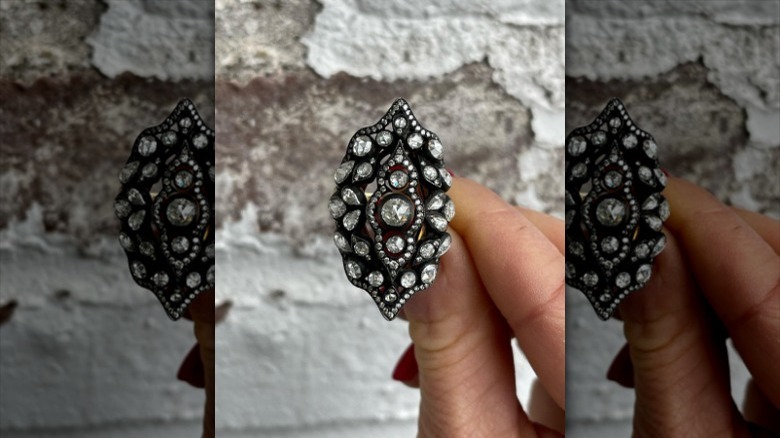 Instagram
We've seen many times that gold and platinum silver do not go with every gem or stone. While in some cases the colors may clash or it simply is too distracting, you have to be careful when matching gold and silver. The advantage of black gold jewelry is that the black color pairs well with a variety of other metals and stones. Regardless of stone or gem, the black gold metal helps the centerpiece pop and shine. Because the setting can easily camouflage within itself, black gold metal makes for the perfect ring. It will make your center stone take center stage.
A symbol of power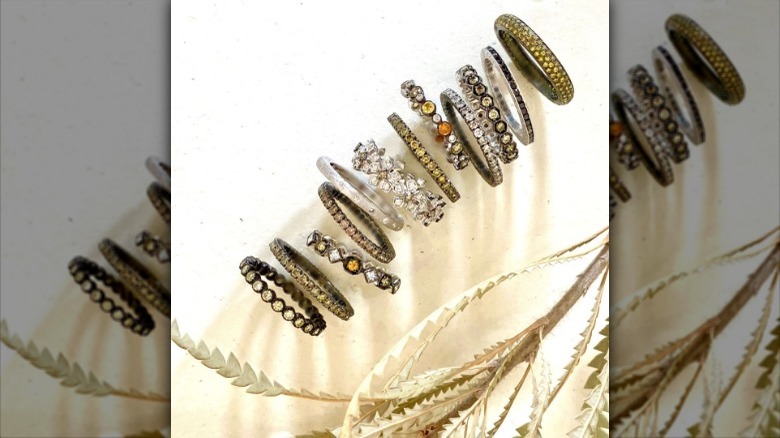 Instagram
Gold and silver are symbolic in their ways. Gold is often seen as a sign of royalty, wealth, and extravagance. The meaning and symbolism of these metals are part of the reason why they are highly valued and sought after. Black gold jewelry can also hold symbolism for the wearer. Black is often associated with power, elegance, and mystery, making it a great choice for those who want to make a statement with their jewelry. The color of these pieces is a symbolic mark of edginess and going against the status quo.