15 Body-Positive Instagram Accounts You'll Want To Keep Up With - Glam,If you've been looking for inspirational body-positive advocates to grace your timeline, here are 15 Instagram accounts you'll want to follow ASAP.
15 Body-Positive Instagram Accounts You'll Want To Keep Up With – Glam
Thanks to social media, we've seen the body positivity movement grow exponentially over the last few years. Celebrities like Lizzo, Ashley Graham, and Demi Lovato have always been vocal about advocating for the movement, with Lizzo taking it even further to advocate for body neutrality. They show that all shapes and sizes can be beautiful, healthy, and fit while encouraging others to embrace and accept their bodies.
While social media has allowed the body-positive movement to grow and flourish, it can also be blamed — at least partially — for helping to create unrealistic body ideals that made this movement necessary. Thanks to different filters and editing software, people, including celebrities, were able to edit out any perceived imperfections to attain the ideal photo online. TikTok is always debuting face-altering filters that many creators are fighting back against.
Fortunately, we've seen a rise in body-positive influencers who aren't celebrities, but regular people, who seek to normalize and celebrate all bodies and abilities. If you've been looking for a few inspirational and influential advocates to follow, here are 15 body-positive Instagram accounts you'll want to keep up with.
Stephanie Viada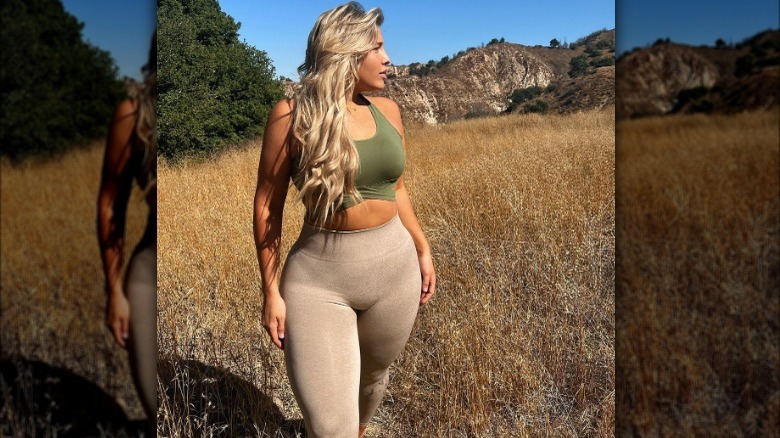 Instagram
Model Stephanie Viada wants people to know that just because someone may be plus size doesn't mean they aren't healthy or fit. In an interview with Muscle and Fitness, she admitted to trying endless fad diets as a teen to lose weight. After finally realizing that her health and fitness were more of a priority than her dress size, she said she discovered that eating what she wants in moderation worked for her and, more importantly, made her happy.
"I don't feel deprived or ever feel the need to go off the rails. I'm just gonna eat whatever I want, but in a reasonable way," she told the magazine. "Now I feel that I've become the most physically fit, healthiest, and most confident version of myself ever."
Viada has also taken to social media to prove that being healthy and fit comes in all shapes and sizes. Her Instagram (@stephanieviada) boasts stunning pictures of the model that she says is the same style as any other model or fitness influencer would post. "I think my goal became to show others that it's not always about getting smaller," she told the magazine. "You can still be confident with your fitness goals while still being a larger size." 
Nyome Nicholas-Williams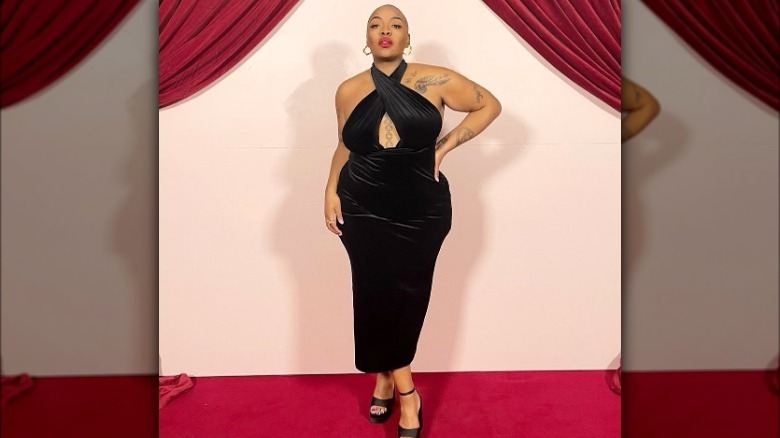 Instagram
Nyome Nicholas-Williams was a photographer before she decided, after the urging of her friends, to step in front of the camera and model. She noticed a lack of Black plus-sized models in the industry and has worked to create a space for everyone. She is the co-founder of Be Who You Deserve, a safe space for all that advocates for body positivity, mental health awareness, and healthy coping skills.
Nicholas-Williams shares encouraging posts on her Instagram (@curvynyome) about self-acceptance, life without filters, personal struggles, and some fire fashion pics with her almost 80,000 followers while reassuring them that she is a work in progress. "I want plus-size bodies to be present in conversations all the time and to have body [types] that aren't represented to be represented," she stated in an interview with Hunger. "I'm never going to stop until I've made the changes I want to make." 
Nelly London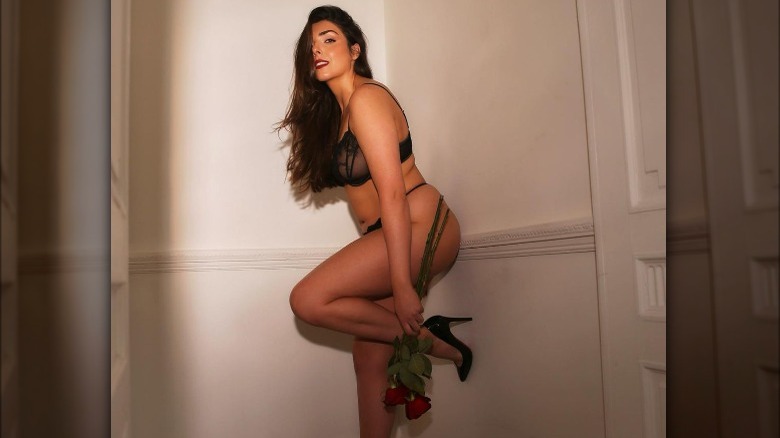 Instagram
Nelly London is a body-positive lingerie model known as "the girl with the hip dips." Her Instagram (@_nelly_london) is filled with stunning lingerie pictures where she shares her experiences with an eating disorder and her complications following breast surgery. She is a huge proponent of body positivity, body acceptance, and how important it is to love yourself at all sizes.
In an Instagram post featuring a close-up of her partner's hands embracing her bare stomach, she wrote, "… I had convinced myself for so many years that my tummy needed to be smooth, to be toned, and to be 'flat' in order to be loved. I have since learned that that was in fact a lie we've been fed since we were children, and actually all tummies are lovable and all bodies deserve love."
London isn't afraid to clap back at trolls who comment negatively about her body. Instead, she chooses to post real, unfiltered pictures to remind people that every body is beautiful and that stretch marks, scars, and cellulite are completely normal — something over 522,000 followers love her for. 
If you need help with an eating disorder, or know someone who is, help is available. Visit the National Eating Disorders Association website or contact NEDA's Live Helpline at 1-800-931-2237. You can also receive 24/7 Crisis Support via text (send NEDA to 741-741).
Michelle Elman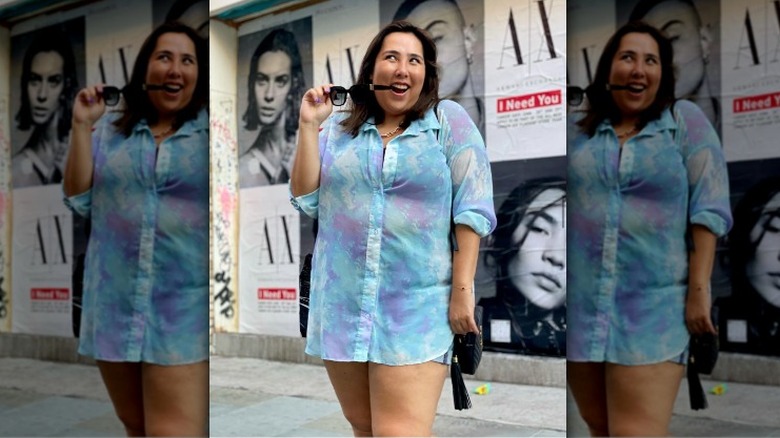 Instagram
Michelle Elman is an author, life coach, and TEDx speaker who first went viral as a body-positive advocate back in 2015 for sharing her personal story of undergoing 15 surgeries before she was 19 years old and the body image issues she dealt with as a result.
Elman built up quite a following in the body positivity space before shifting her focus to more personal development. She wrote on her Substack that she was tired of people only wanting to talk about her body and instead wanted to become more about "teaching people how to improve their confidence, to make the most of the time they had on this planet and how hugely irrelevant what we look like is."
Elman writes in a stories highlight on her Instagram account (@michellelelman) that her page is a "safe space for all bodies," adding that "you will not see any diet content on this page" and that she "believes in health at every size." Instead, she shares her favorite activities, gives life coaching advice, and advocates for setting boundaries. She boasts over 250,000 Instagram followers who love her honest advice and opinions about everything, from fitness to dating and learning to love yourself. 
Louise Green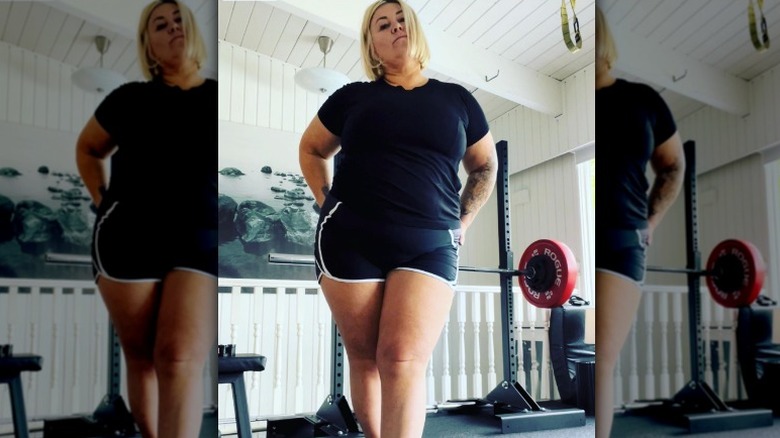 Instagram
Louise Green is changing how the public perceives fit bodies. She is a plus-size personal trainer, global fitness coach, fitness activist, author, and founder of the fitness app Big Fit Girl. Green believes that every body can be a fit body, and the more the public sees people of all sizes in fitness-related media, the more inclusive the space will become.
Green's Instagram (@louisegreen_bigfitgirl) is filled with motivational videos and quotes, showing her over 63,000 followers that any person — regardless of size — can thrive in the health and fitness industry.
She challenges the ideology that fit and thin must go together and encourages people of all sizes to feel comfortable and included in the fitness space while also training fitness professionals on how to create a size-inclusive fitness culture. She is one of the first plus-size athletes to be featured in a handful of fitness and runner's magazines and authors a fitness column for Self magazine.
Shira Rosenbluth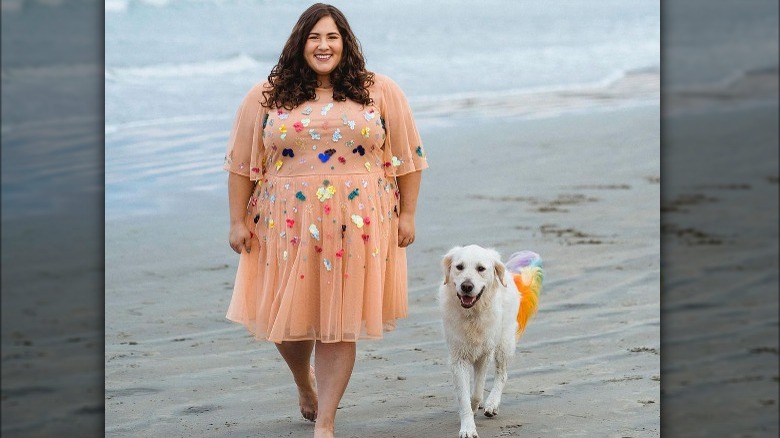 Instagram
Shira Rosenbluth is a licensed clinical social worker, eating disorder therapist, and body-positive blogger. Rosenbluth shares her own journey with disordered eating as well as tactics to help those who may also experience eating disorders, disordered eating, and body image dissatisfaction following the "Health at Every Size" approach. On her Instagram (@theshirarose), which has more than 90,000 followers, she advocates for "fat" positivity and acceptance and awareness of what eating disorders look like and how harmful they are.
Her Instagram account aims to educate those on the reality of eating disorders, writing in a post, "Eating disorders are NOT a weight disorder, and they can happen to anyone in any body," adding, "there is no 'look' to any eating disorder diagnosis. Thin and fat people both get anorexia, bulimia, binge eating disorder, ARFID, etc., and you cannot tell by looking at someone what their diagnosis might be." Rosenbluth understands how all-consuming it can be to live with an eating disorder and how exhausting it can be to constantly feel at war with your body. If you can relate to how that feels, give her a follow.
If you need help with an eating disorder, or know someone who is, help is available. Visit the National Eating Disorders Association website or contact NEDA's Live Helpline at 1-800-931-2237. You can also receive 24/7 Crisis Support via text (send NEDA to 741-741).
Neha Parulkar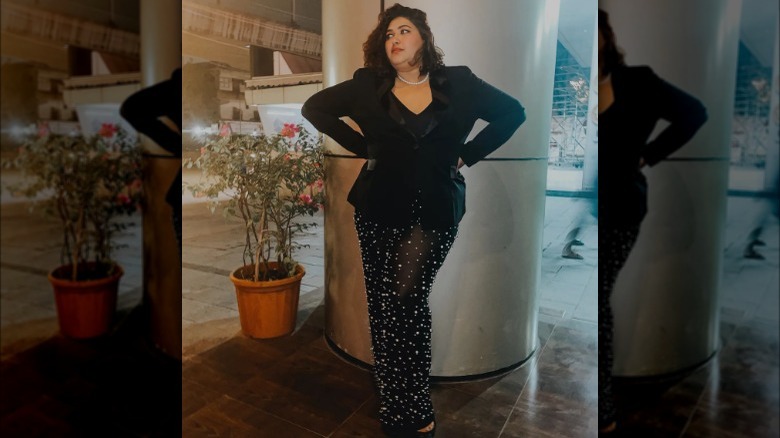 Instagram
Neha Parulkar is a "plus & proud" body-positive influencer, according to her Instagram (@nehaparulkar), who hails from Mumbai, India. She finally began to embrace her natural body after the pressures of dieting began to overpower other aspects of her life. "After a point, I realized if I lose 10 kg, after a while, they will ask me to lose 10 more," she told Indian Women Blog.
"Where is the end to expectations, and where am I in all of this? Am I happy losing weight, not eating, and not concentrating on studies? So I realized the fact that I was doing something not because I wanted to do it but because someone else wanted me to," she said. Parulkar decided to become an influencer to help those who may also be struggling with their own body image issues and need to see people who look like them as a role models or inspirations.
Today, she shares with her 49,000 Instagram followers a variety of fashion hauls and messages of self-love and inclusivity while encouraging her followers to do what makes them happy and not worry about what anyone else will think. Her 'get ready with me' posts are massively popular amongst her fans. And as a plus-size model, Parulkar proves that beauty and confidence are not size-specific.
Alicia McCarvell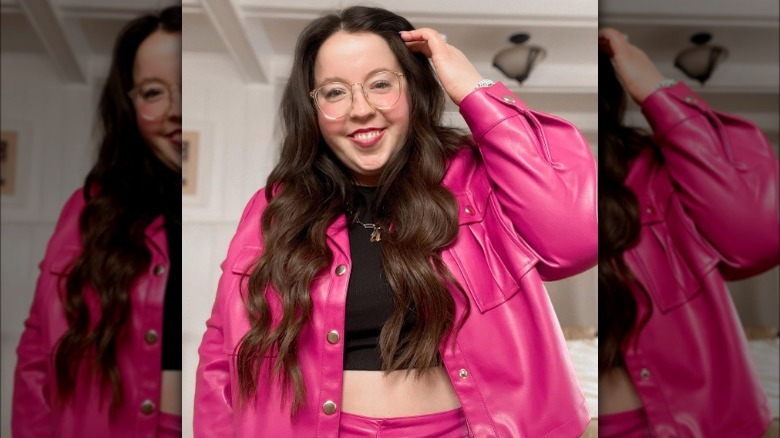 Instagram
You probably recognize Canadian body-positive influencer Alicia McCarvell from TikTok, where she regularly posts videos of herself with her husband, Scott, for an audience of over 5.8 million subscribers. As a plus-sized woman in a "mixed-weight relationship," McCarvell shares videos of her life with her husband and challenges the stigmas reinforcing the ideals that if you're plus-size, you can't be fit, healthy, and loved by someone who has a different body than you. 
In addition to her massive TikTok following, McCarvell shares her message of self-love on Instagram (@aliciamccarvell) with more than 930,000 followers. She became a body-positive influencer after having to defend her relationship from trolls who would constantly comment on how she and her husband's bodies were different.
In a recent Instagram post, the influencer shared a picture of herself and Scott alongside some of the cruel comments she's received about their relationship, simply because they are different sizes. "This is the stigma Scott and I fight to break every. single. day. Simply by existing online," she captioned the photo. Her smiley selfies, self-accepting posts, and encouraging messages contribute to her stardom.
Jessamyn Stanley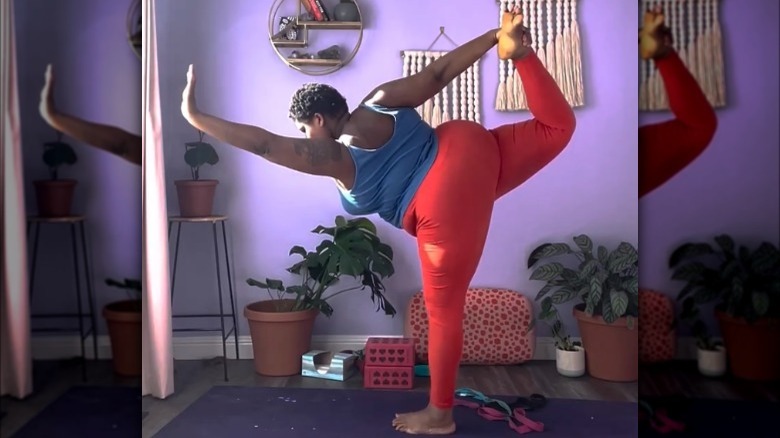 Instagram
Jessamyn Stanley is changing the public perception of what healthy looks like. As a body-positive wellness influencer and yogi, she has authored two yoga-centered books and co-founded the wellness community The Underbelly. Her Instagram account (@mynameisjessamyn) empowers her 470,000 followers to be the best they can be at any size while showing off her insane yoga skills. 
Stanley also teaches naked yoga on her Only Fans page. "There are just not that many examples of what a fat body looks like with no clothes on, so I'm excited about being able to really get in there and point to specific body parts that, quite frankly, so many are not in touch with at all," she explained to SHAPE. Throughout it all, she is constantly proving to her critics that you don't have to be a certain size to be fit, healthy, and active.
In an essay for Wanderlust, the yoga instructor wrote that "body positivity encourages people to be OK with how they look and feel today. It shouldn't encourage people to wish for or think about some undefined time in the future when their bodies will be different." Stanley's Instagram account proves that to be true! If you're looking to start your own at-home yoga journey, definitely give her account a follow for that daily dose of inspo. 
Remi Bader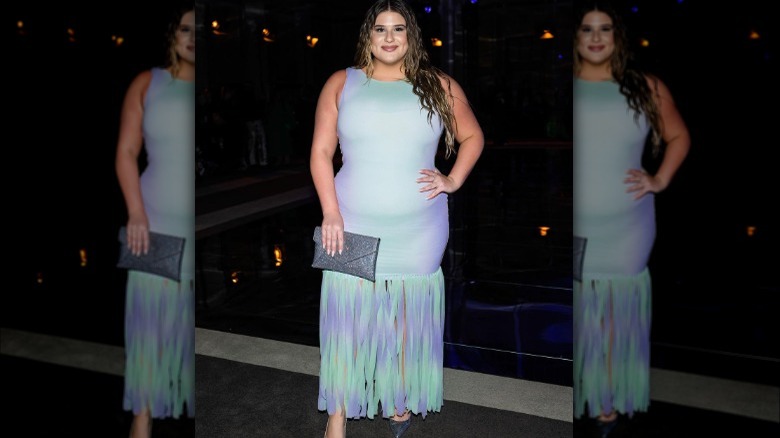 Instagram
Remi Bader first went viral for posting her "realistic try-on hauls" on TikTok during the pandemic. The plus-sized model gained a huge following thanks to her very honest and oftentimes hilarious approach to the clothes shopping experience as a plus-sized woman, and her popularity has exploded since.
Her appeal is largely due to the fact that she posts the good, the bad, and the ugly in those try-on hauls and uses her experiences to advocate for more size-inclusivity amongst all brands. She's also been open and honest with her 534,000 followers on Instagram (@remibader) about her continued struggles with her eating disorder, self-love, and lack of acceptance by the plus-sized community.
"Another reason why certain people in the plus-size community aren't on my side is because I will openly talk about being unhappy with my body," Bader wrote in an essay for The Cut. "When I say 'I'm not the happiest right now,' or 'I don't feel great,' people will say: 'Remi's fatphobic.'" Despite those detractors, her followers love her authenticity and sense of humor. Her influence is being felt as more and more brands are offering more inclusive sizing. 
If you need help with an eating disorder, or know someone who is, help is available. Visit the National Eating Disorders Association website or contact NEDA's Live Helpline at 1-800-931-2237. You can also receive 24/7 Crisis Support via text (send NEDA to 741-741).
Gabriella Athena Halikas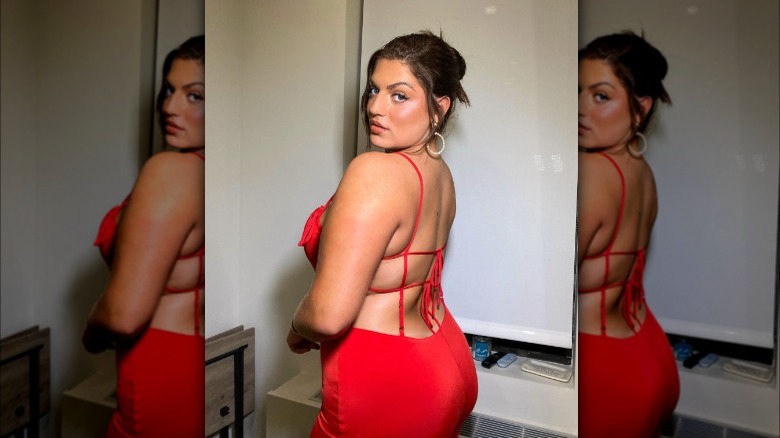 Instagram
Gabriella Athena Halikas is a model and content creator quickly gaining popularity on social media thanks to her gorgeous photos and body-positive message. Her Instagram (@ellahalikas) is filled with stunning snaps at luxurious events around Los Angeles. Halikas appeared in the 2021 Sports Illustrated swimsuit edition and has gone viral for creating an Instagram series called " THICK GIRLS CAN ROCK THIS FIT" where she recreates outfits worn by celebrities and models such as Kim Kardashian and Bella Hadid.
In addition to encouraging her followers to feel confident in their bodies, she also documents her recent successes, including landing a modeling gig with Kim Kardashian's SKIMS and being signed by Ford Models. Despite her success, she spoke openly about her dislike for labels like 'curve model' and 'plus-size model' on Cameron Rogers' Freckled Foodie and Friends podcast.
"I don't want to be classified into a certain box. Why do I have to, as a curve woman, always overcompensate for things?" she said, noting that her "thinner counterpart" is never asked to specify the kind of model they are. Halikas continues to use her social media to show that sexy and beautiful come in all shapes and sizes. 
Stephanie Yeboah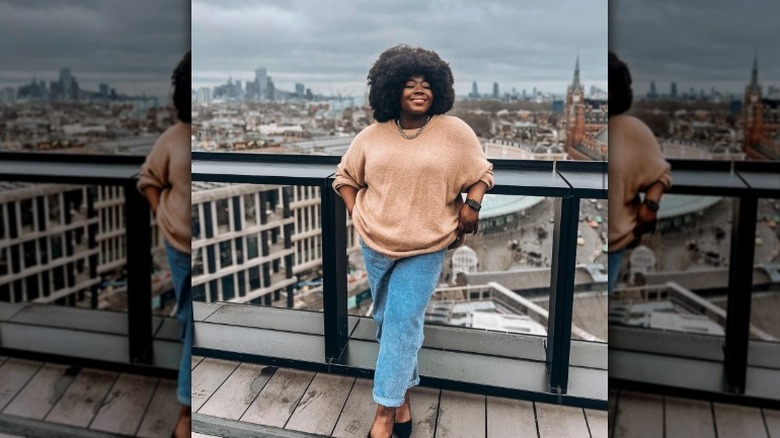 Instagram
If you're looking for fabulous fashion, some great recipes, and a lot of body positivity, you will want to follow Stephanie Yeboah on Instagram (@stephanieyeboah). Yeboah has been creating content for over 14 years and has been a staunch advocate within the body positivity, mental health, and self-love communities. She shared some of her life experiences in her 2020 best-selling book "Fattily Ever After: A Fat Black Girl's Guide to Living Life Unapologetically" and continues to share her life with her ever-growing audience.
In an interview with Frank Body, Yeboah spoke about the word "fat" and what it means to her. "The word fat has always had negative connotations," she explained, adding that people would "use it as an insult." She added, "For myself and others within the body positive and acceptance space, we have reclaimed that word because it is not negative. It is literally a descriptive word of a body type." Her social media definitely shows that size doesn't determine worth.
Georgie Clarke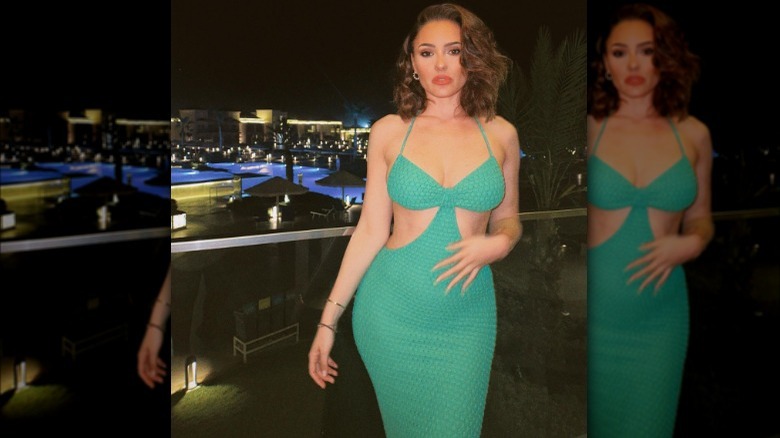 Instagram
Georgie Clarke made her name in the body positivity space by sharing side-by-side and "before and after" photos to showcase how filters, lighting, posing, and editing can drastically impact what we see online. Her Instagram (@georgie.clarke) is filled with images that prove that what you see online is often not reality. As an influencer herself, she aims to shed light on how those perfectly-posed images of celebrities and influencers can often be the result of simply knowing how to pose in the best light.
"Please remember that when you see what you think is "perfection" online … you are not seeing the behind the scenes photos and real life person that has cellulite, dimples, rolls, and all those other cute things. You are worthy of loving both versions of yourself," she captioned one post showing four different shots taken at the same time, including two "fashion" poses and two where her stretch marks, cellulite, and stomach were visible. Clarke embraces self-love and body-positivity while helping to remind her 629,000 followers that there's no such thing as perfection.
Sarah Nicole Landry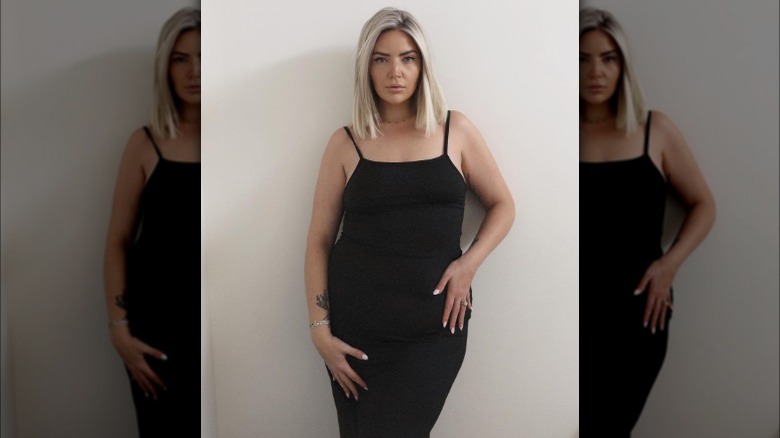 Instagram
Sarah Nicole Landry, known as @thebirdspapaya on Instagram, has amassed a following of around 2.3 million who love her honest and real take on motherhood and acceptance. A self-proclaimed "body confidence advocate" and mother of four, according to her website, Landry often shares photos of her postpartum body and speaks openly about how she has embraced and learned to love her body and the changes it's gone through.
Landry's openness has resonated with her followers, who praise her for sharing her life and journey toward body acceptance. In an interview with Shedoesthecity, Landry said that after she shot a Knix underwear campaign in 2018 where her "postpartum stretch marks" were visible, she realized how much women needed to see authenticity in media. "Reading the comments, I prepared myself for disgust but what I was met with was thousands of women saying this looks just like me. I realized how many of us were hiding away in shame, believing we were the only ones." 
Megan Jayne Crabbe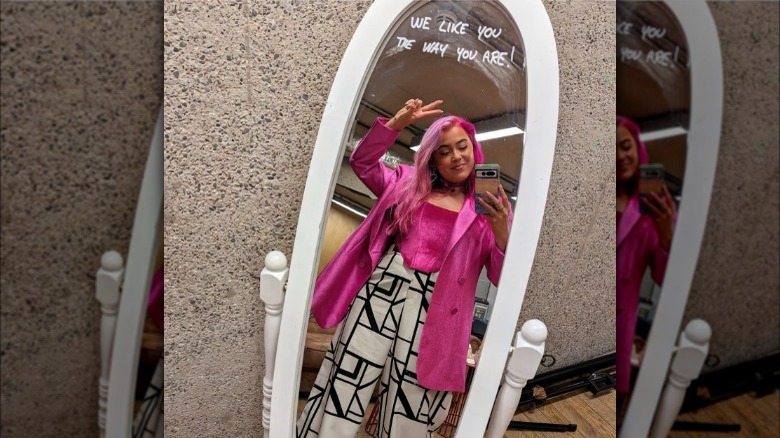 Instagram
Megan Jayne Crabbe was just 14 years old when she was diagnosed with anorexia nervosa. She struggled with eating disorders for a few years before becoming consumed by diet culture. She told The Female Lead that she was 21 when she came across the body-positive movement on Instagram, and it was then that things began to change for her. She credits the movement for helping her realize that her happiness and self-worth weren't tied to her weight.
Her book, "Body Positive Power: Because Life Is Already Happening and You Don't Need Flat Abs to Live It," helps people unlearn diet culture and learn to love and accept their bodies. Crabbe, whose love of bright colors is always on display on her Instagram (@meganjaynecrabbe), shares strategies to help her 1.2 million followers find their own body positivity, fitness posts, affirmations, and a lot of fun fashion.
"Diets don't work. And the reasons are far more complicated than not having enough willpower or just needing to try harder," she stated in an interview with Glamour. She hopes to share this message with her followers to let them know there's more to life than counting calories.
If you need help with an eating disorder, or know someone who is, help is available. Visit the National Eating Disorders Association website or contact NEDA's Live Helpline at 1-800-931-2237. You can also receive 24/7 Crisis Support via text (send NEDA to 741-741).