Flamin' Hot: A Spicy Allegation Made Jesse Garcia Think The Movie Might Not Happen - Looper,A dispute about the story at the center of "Flamin' Hot" made star Jesse Garcia believe the film could be in jeopardy.
Flamin' Hot: A Spicy Allegation Made Jesse Garcia Think The Movie Might Not Happen – Looper
Even Cheetos are susceptible to some high-stakes controversies. "Flamin' Hot" tells the story of Richard Montañez (Jesse Garcia), the supposed inventor of the Flamin' Hot Cheeto. It's the latest entry in Hollywood's era focusing on corporations, with McDonald's and even GameStop getting movies. However, just as filming started on "Flamin' Hot," the Los Angeles Times published a piece debunking Montañez's claim as the creator of the spicy snack, sending the production into a tailspin. 
"Well, my first reaction was, 'Oh s**t, is this movie still going to happen?'" Garcia recalled to Variety. "This movie was important to me — not just career-wise. This is a big opportunity for Annie [Gonzalez], for Eva [Longoria], for DeVon [Franklin], for Richard [Montañez]. We called Eva: 'What's going on?' Her and DeVon were putting out fires and getting apologies." Garcia reiterated that Montañez had evidence to support his claims, saying his paper trail would prove his side of the story. 
However, the allegations were too big to ignore, so "Flamin' Hot" had to address them in some fashion. "In the movie, we even touched on it, where they were developing a hot chip, but it wasn't quite working," Garcia said. "Flamin' Hot" depicts Montañez creating his recipe while Frito-Lay attempted to develop a similar product unknown to the Montañez family.
Flamin' Hot stands by Richard Montañez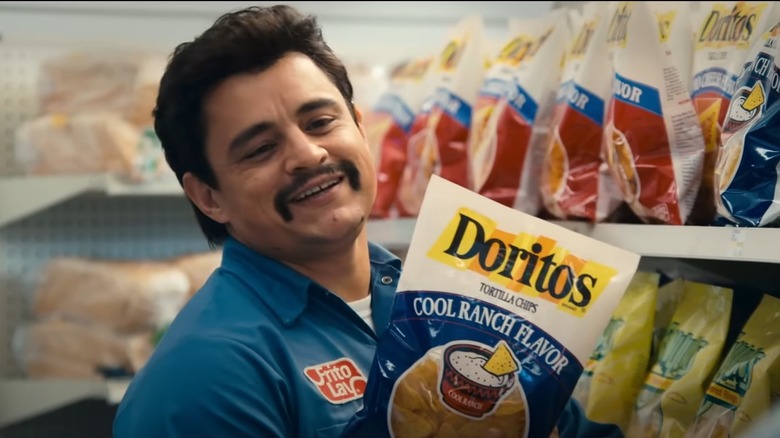 Searchlight Pictures/YouTube
The story goes like this: Richard Montañez was working as a janitor at Frito-Lay when the idea of a chile-covered Cheeto came to mind. He then called up the heads of the company to sell them his pitch. The Los Angeles Times' piece disputes these claims, saying Montañez used his natural charisma to charm people into believing his underdog story. "Flamin' Hot" could've easily ignored the allegations but instead chose to add that viewpoint to the story.
"I know that there was more of an effort to make sure that was in the movie, that there was something going on," Jesse Garcia told Variety. The actor admits that he doesn't remember specific changes to the script, but that the production made it a point to include that Frito-Lay was working on their version of Flamin' Hot Cheetos but couldn't nail the recipe. "I'd have to go back and look at my scripts and see if that was a big change. But I feel like it was always there. I don't remember."
While "Flamin' Hot" stands behind Montañez as the original creator of Flamin' Hot Cheetos, acknowledging both sides gives audiences the most complete and accurate story. Following the explosion of his story, Frito-Lay conducted an internal investigation into the spicy snack's invention, calling Montañez's involvement nothing more than an urban legend. It's a very "he-said-she-said" story, and it's unlikely fans will ever know what really happened.