The Goldbergs Has No Business Moving Forward After Season 10 - Looper,The Goldbergs is at a turning point, and it might be time to say goodbye.
The Goldbergs Has No Business Moving Forward After Season 10 – Looper
Every television show has an expiration date. Yes, even "The Goldbergs."
The long-lived sitcom has been entertaining audiences for 10 seasons now, and during that time, the cast has evolved in exciting ways. We've seen Adam Goldberg (Sean Giambrone) grow from gawky youth to college-aged director-to-be. His sister, Erica (Hayley Orrantia), has blossomed upward from being a mall-obsessed teen to a wife and mother trying to figure out who she is, if not a musician — and what kind of mother she is, if not a reflection of her beloved mother (or should we say smother) Beverly (Wendi McLendon-Covey). And Barry (Troy Gentile), Big Tasty himself, has finally found a steady girlfriend and a purpose in becoming a doctor. 
But all isn't roses and neon in the land of Goldberg. The show is noticeably struggling in the wake of some major cast and premise changes as its teens turn into young men and women, which as TV Insider pointed out in January, has put it on the bubble for a Season 11 renewal. That's the first time the show's future has seemed uncertain in years. Viewership is down by over 30 percent compared to Season 9, which has made it ABC's second-lowest rated sitcom overall. The question of where the series can and should go, as Adam enters college and prepares for a life in Hollywood, is more important than ever. And really, it might just be time for "The Goldbergs" to hang it up while the getting is good. On the other hand, there are also ways to bring the show back to its heartwarming, laugh-packed glory days.
Murray's death has been a real downer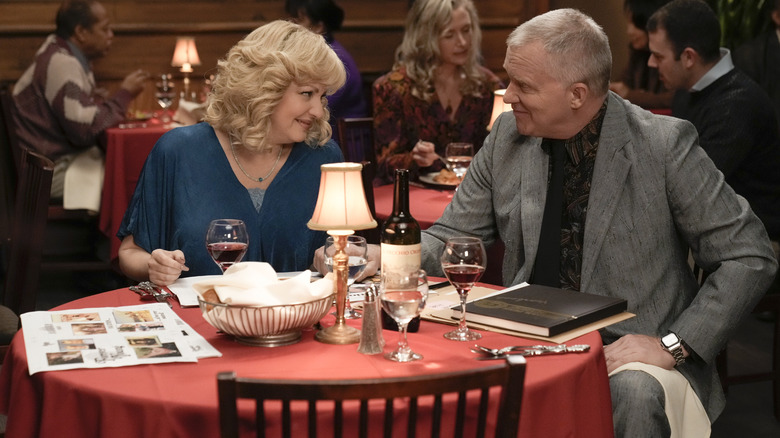 ABC/Scott Everett White
The elephant in the room is the obvious one — the loss of Murray Goldberg (Jeff Garlin) has been a pretty big blow to the series. That doesn't mean that the patriarch shouldn't have been killed off. As most directly embodied in Season 9's worst episode, using special effects and canned audio to create a Frankenmurray in the wake of Jeff Garlin's departure was always going to land badly. Since then, though, the show has struggled to handle his departure in an efficient way.
Some plot points have rung truer than others. Adam and Barry's differing struggles to cope with their dad's death and act as the "men" of the house, and Erica choosing to name her daughter after him, both felt realistic for the show. But "The Goldbergs" has chosen to rush past a lot of the characters' mourning processes too fast, to deliver a sense of the new status quo. That leaves the audience with rushed storylines and nonsensical character arcs.
Chief example: the ever-dramatic and sentimental Beverly has been shoved out into the dating pool only twelve episodes into Season 10, which makes no sense for a woman who clings to the past — and adored her husband — with incredible tenacity. The show tries to give Erica and Barry's feelings about this development room to express themselves, and even Beverly has second thoughts, but Adam is largely wrapped up in the b-plot … which involves him trying to outdo Dave Kim's (Kenny Ridwan) parody take on "Amadeus." If the show isn't going to give the audience and all three of its young adult characters some breathing room when it comes to their grief over Murray, then it might be best to lay the series to rest.
A growing Adam means a growing problem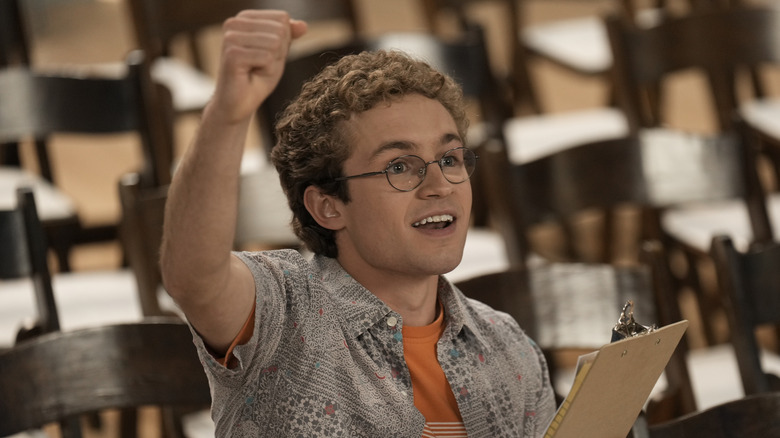 ABC/Scott Everett White
Speaking of Adam, it's not only Erica's pregnancy that has been rushed through to completion in a matter of episodes. Adam's "gap year" is far less interesting than his high school days. 
Before Adam graduated high school, the school's staff was a big part of his life, as were his friends there. Now that he's on his own, working as a singing waiter and film set P.A., there are no interesting new characters to bolster him through this big life transition. While hiring the engaging Isabella Gomez to play Adam's co-worker Carmen should have solved this problem, "The Goldbergs" has done nothing unique with her charm and has failed to turn Carmen into a stand-out character, instead framing her as just a likely stumbling block in Adam's relationship with Brea (Sadie Stanley). 
Even worse, thus far, much of Adam's grieving process for Murray has been about him reacting to Barry's poor absorption of the news. Whether it's realizing his brother was obsessed with "Field of Dreams" because he can't get over Murray's death, to Barry deciding to act like his little brother's father figure, Adam spends too much time reacting to his sibling's lives instead of leading his own these days. It's as if everything in his life has been put on hold, from his new relationship with Carmen to his film school plans. While it's a relief to see him get a break from Beverly (their connection was starting to get a little too suffocating toward the end of Season 8), it feels like the show doesn't know where to take him next, which means it might have better ended with his graduation last season.
Erica and Barry's storylines have been uneven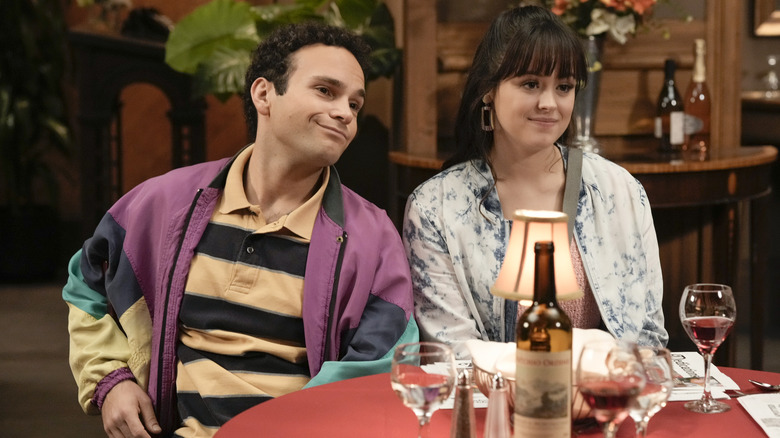 ABC/Scott Everett White
It's not just Adam who's stuck in stasis. What the heck happened to Erica's career plans? Have they been put aside in light of her parenting of Muriel? It feels like Erica's career and collegiate life has been truncated in favor of her romance with Geoff (Sam Lerner), and that in turn has been set aside in favor of portraying them as parents. The couple barely had half a season to bask in their newlywed contentment before Muriel arrived, and now they're stuck trying to figure out how to parent their daughter. Remember when Erica wanted to be a singer? They closed the door on that dream pretty ruthlessly, and the usually fiery Erica reacted to it by throwing herself into motherhood. The show used to avoid shying away from harsher truths like that — remember how hard Adam took his first break-up? Erica and Geoff's season-long process of breaking up and getting back together?  
Barry, meanwhile, hasn't had a lot of forward storyline movement since acing the MCATs last season. We got a single-episode b-storyline in which he struggles with medical school, but ends up sticking with it. The show could be having fun with an exhausted Barry working his way through medical school on a weekly basis, but much of his story arc this season has centered around his mourning for Murray in a way that hasn't pushed any storyline boundaries in an interesting way. There has to be something more interesting for both characters to do.
Bev's the only character that hasn't been smothered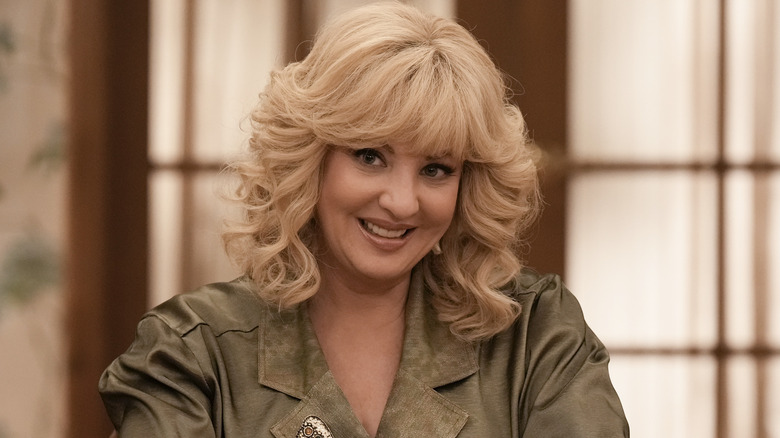 ABC/Scott Everett White
And then there's our beloved smother. Bev Goldberg has been the show's only character to mainly stick to her central raison d'être, and this is because she's been so strongly Flanderized over the past few seasons of the show that it's nice to see her being forced to branch out.
While she does still try to infantilize Adam, ripping apart his new friend group and shoving him into situations he's largely unsuited for, he's at least been given more room to act out against her pushy instincts. She has developed interests of her own, continuing to work at Adam's former high school and taking up hobbies such as line dancing. But when she turns her attention toward Erica and her brood, the results can be cringeworthy. "The Biggest Grinch Ever" featured her trying to steal a present Erica and Geoff had bought for her granddaughter so she could give it to Muriel, which is a beyond compare gesture even for a devoted mother like Bev. Showing a deeper rift between Bev's loyalty to her kids and her loyalty to Muriel might be interesting, if ABC dares to tread that path.
But there could be bright spots on the horizon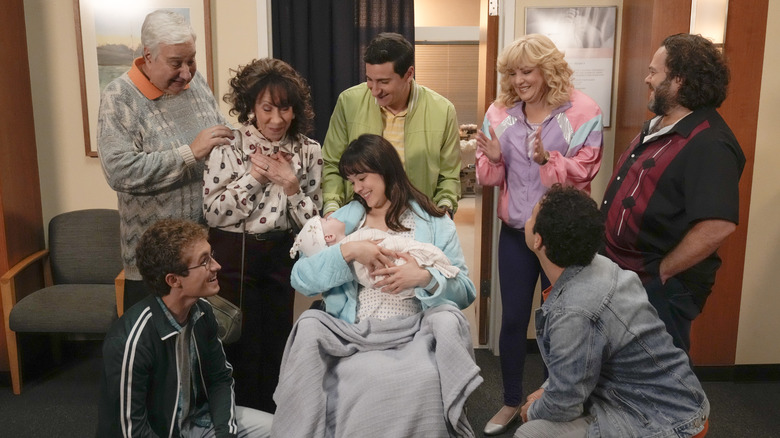 ABC/Scott Everett White
How could "The Goldbergs" fix their family drama and get back on the ball if they do end up with an eleventh season? The key is to let the characters credibly grow without sacrificing the warmth and soul the show has.
The best thing ABC could do: bring back Adam F. Goldberg to finish telling his family's story. Goldberg stepped down as showrunner before its seventh season went into production (per Deadline), and per the producer's official Twitter, there appears to be some bad blood between himself and Sony Pictures, which owns the rights to some of the show's characters and concepts. However, the fact is that "The Goldbergs" retells Adam F. Goldberg's life story. Without his input, the show has floundered for a worthwhile direction.  Goldberg could've smoothly led the show into its next era without missing a step.
Since we cannot turn back time, let's look at how the show could forge a pathway forward. Finally taking Adam out of town and plunging him into college might freshen things up, if they can balance the world of Jenkintown with his new college plans. Showing Erica trying to figure out motherhood, a career and keeping things fresh with Geoff would be interesting — even if it forces the young newlyweds to reckon with how quickly they've moved from friends to parents. And focusing a little more on Barry's internship can only mean more interesting things for the show — Barry trying to bring his patients comfort through a rap, anyone? 
Even a long-lived series like "The Goldbergs" can refresh itself, if ABC is willing to put in some extra effort. Otherwise, it has no business continuing on as things stand.