Shows With Hiatuses That Lasted Two Years Or More - Looper,These shows had some seriously long gaps between seasons.
Shows With Hiatuses That Lasted Two Years Or More – Looper
TV seasons used to follow a fairly consistent schedule. Premieres were in the fall, then there were fairly short breaks for holidays, then the season ended around May or June of the following year to take the summer off, and then it returned again that fall. Once shows started coming to cable channels, that all changed, as they were no longer beholden to the typical network television structure. Being able to have seasons of varying lengths followed by hiatuses that often lasted much longer than the standard 2-3 months also allowed for more expensive and more ambitious productions, not to mention a higher caliber of actor who wouldn't normally have done television because of how much it limited their access to also do films and other projects.
The increased success of cable shows reinforced that the flexibility worked. A similarly loose production schedule extended to shows on streaming services once those became a thing. Now, we basically expect to always wait at least a year between seasons of our favorite cable or streaming shows. Sometimes shows take multiple years between seasons, whether because of factors like COVID-19 or just because the creative forces behind that show want to take their time and aren't being forced to pump out new seasons before they are ready. 
With that in mind, here are some of the longest hiatuses that have ever been seen between seasons of shows, not counting ones that were canceled or otherwise officially ended — such as "Roseanne," "Family Guy," "Arrested Development," etc. — only to be revived later on.
Better Call Saul (2 years)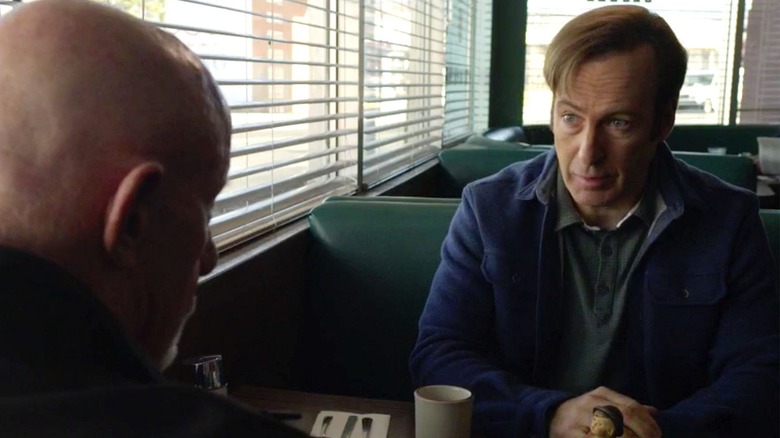 AMC
There are only a select few spin-offs that are considered as good as, if not better, than the original. While not everyone will necessarily agree that "Better Call Saul" actually surpassed "Breaking Bad," it's widely agreed upon that the two shows are at least equal in quality — which is no small feat considering how acclaimed "Breaking Bad" was. Taking a look at how a struggling lawyer named Jimmy McGill, who was trying to be one of the good ones, eventually devolved into the shady Saul Goodman, who helps criminals launder money, "Better Call Saul" wrapped up its stellar six-season run in the summer of 2022.
Although "Saul" did manage six seasons in seven years, which is pretty prolific for a prestige cable show, the final season faced some serious challenges that led to the two-year break after the end of Season 5. Like many productions that were in progress in 2020, the COVID-19 pandemic caused several delays in the filming of the sixth season. On top of that, star Bob Odenkirk suffered a major heart attack on set that almost led to the entire season being nixed altogether. 
All things considered, it's almost a miracle that there was only a two-year break between the fifth and sixth seasons.
Rick and Morty (2 years, 1 month)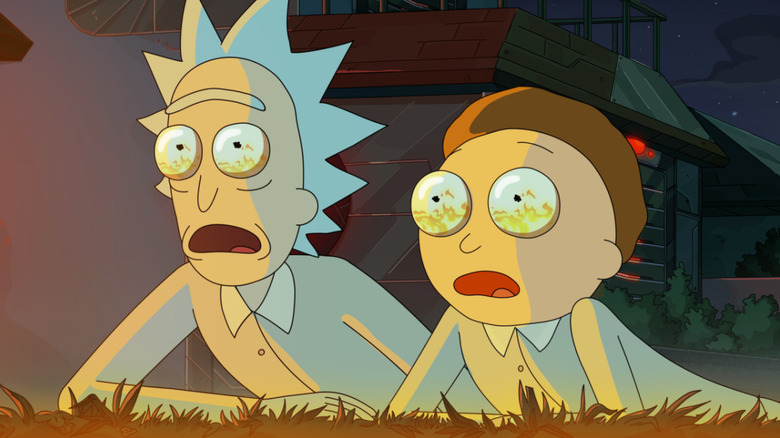 Adult Swim
Even before the behind-the-scenes personal issues and eventual firing of co-creator and lead voice actor Justin Roiland, "Rick and Morty" was a show that had been somewhat infamous for long breaks between seasons. The series, very loosely inspired by "Back to the Future" in that it stars an old mad scientist who goes on wild adventures with a nervous and somewhat reluctant high schooler, the Adult Swim series has been both a ratings and critical hit since its first season wrapped in the spring of 2014. 
Right away, the show had established that its seasons weren't going to be released in any kind of hurry, as there would be a 15-month wait until the second season premiere. The hiatus between Season 2 and Season 3 was even longer at 18 months. That was followed by what has thus far been the longest break between seasons in the show's history, with a staggering two years and one month passing between the end of Season 3 and the beginning of Season 4. 
Things have improved since then, with only about a year off between subsequent seasons. However, it remains to be seen how long the wait is going to be for Season 7, given Roiland's firing and the need to re-cast his roles on the show.
The Venture Bros. (2 years, 7 months)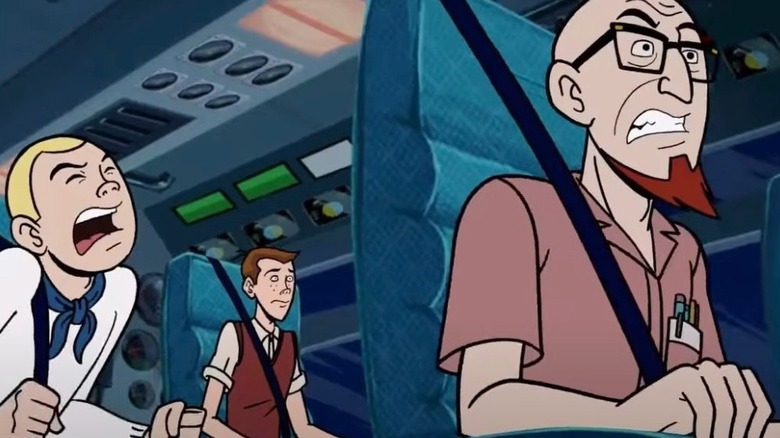 Adult Swim
Adult Swim prides itself on being a space for television that doesn't adhere to the long-established conventions of the medium. In doing so, it has allowed many of its creators the freedom to take their time in creating content. It isn't just hugely popular series that are allowed that flexibility. Cult favorite "The Venture Bros." — following the titular family as they battle supervillains as well as their own dysfunctional relationships with each other — also took several multi-year breaks during its run.
"The Venture Bros." was one of the first examples of an Adult Swim original series that was a full-fledged animated production and didn't use deliberately rudimentary computer animation or repurposed assets from existing shows. It didn't have the money or resources that being on Fox or even daytime Cartoon Network might have afforded it, so it stood to reason that it was going to be a show that took some time to create. In fact, the show spent 15 total years of production but only produced 82 episodes and 4 specials across seven seasons in that time frame. 
Long breaks were frequent for the series, but the longest was the 2 years and 7 months that passed between its fourth and fifth seasons — though, to be fair, two specials did air during that hiatus. Here's hoping the upcoming movie is released in a relatively timely manner.
Stranger Things (2 years, 10 months)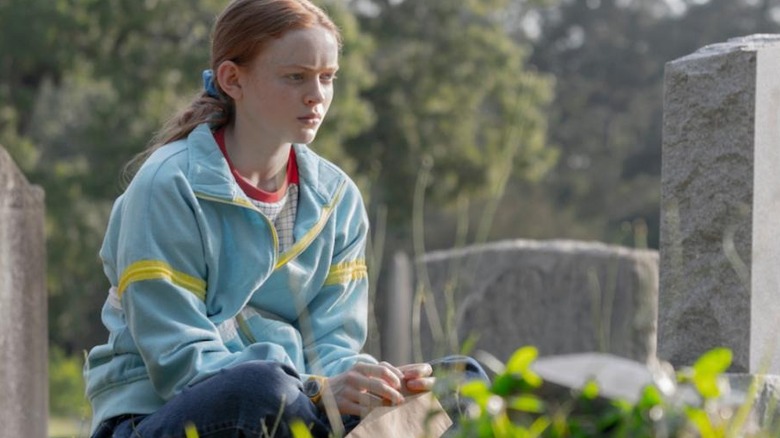 Netflix
Netflix has developed a reputation for canceling shows that people love, sometimes even before a series has been given much of a chance to find an audience. Luckily for fans of the alternate dimension monster-battling teens and young adults of Hawkins, Indiana, "Stranger Things" was already one of the streamer's most watched series within the first few weeks of the release of the first season (per Variety). It has remained so throughout the show's four seasons and counting, seeming to justify the ever-increasing budgets and ballooning hiatuses between seasons.
While time is of the essence when dealing with a young cast. For a show that purports to have only had a couple of years pass in its timeline, "Stranger Things" has stretched its total lifespan thus far to six years and counting. This especially got bad in the wait between Season 3 and Season 4, which, despite the latter supposedly taking place only eight months after the previous season, had fans endure an excruciating two-year, 10-month wait. Given all of the supernatural and magical elements of the show, it would probably just come off as nitpicky to point out the fact that most of the younger cast members definitely didn't look like it was only eight months later. 
Sherlock (3 years)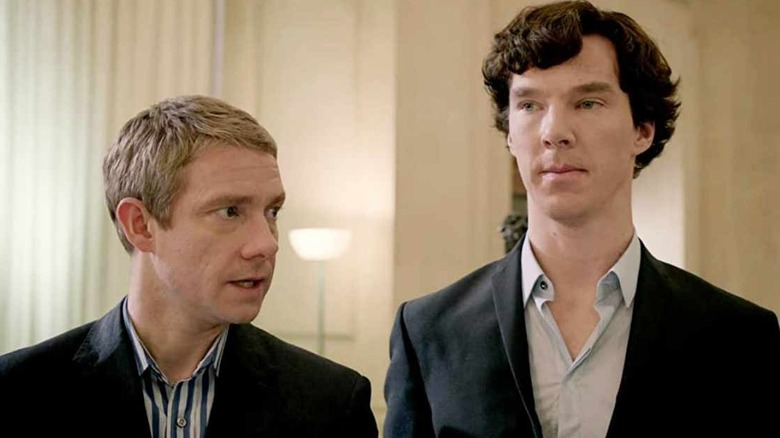 BBC
To be fair, the BBC's 2010-2017 "Sherlock" show often feels more like a series of movies rather than mere episodes of a TV show. So it stands to reason that the seasons weren't released one after the other and that there was a whopping three-year gap between Season 3 and Season 4 — not counting the Christmas special that aired in the interim. Still, "Sherlock" labels itself as a TV series, and one that was clearly divided into four series — the UK term for seasons — so it's valid to include it in this feature and among other TV shows.
Given how busy the two lead actors are at any given time, it's both understandable and not at all surprising that it would sometimes take a while to complete a "Sherlock" season. Benedict Cumberbatch was in a "Star Trek" movie and multiple MCU and "Hobbit" movies during his tenure as one of the most famous fictional detectives in history, to name but a few of the films he did during the 2010s. Martin Freeman, who's great as Holmes' assistant Dr. Watson, was starring in those same "Hobbit" movies as well as doing his own MCU tour of duty and also playing one of the leads of the first season of "Fargo." 
The Orville (3 years, 2 months)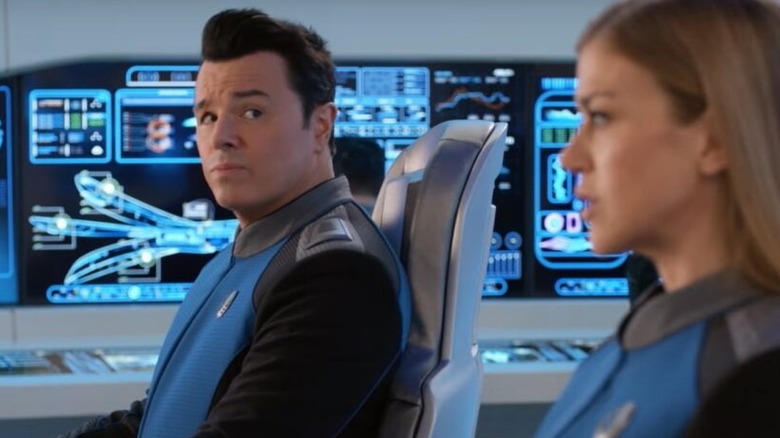 Hulu
Though Seth MacFarlane has made several live-action films, his television forays as a creator were largely of the animated variety until his sci-fi series "The Orville." Both a parody of and loving tribute to "Star Trek" and other shows of its ilk, "The Orville" follows the crew of the titular spacecraft, with MacFarlane playing its captain. It's the kind of high-concept series that seldom finds a home on network television, but Fox did give it two seasons on traditional television — perhaps due in no small part to how much cash MacFarlane has helped put in the network's pockets over the years. 
For the third season, Fox opted to move the series to Hulu full-time, originally intending for Season 3 of the show — subtitled "New Horizons" in a likely homage to "The Next Generation" — to hit the streamer by the end of 2020. Of course, as we now know, most things that were scheduled for 2020 didn't end up actually coming out in 2020 thanks to the complications of the COVID-19 pandemic, and "The Orville" was no exception. Finally, in June of 2022, the long-awaited third season finally hit Hulu after a 3+ year wait. 
Fargo (3 years, 3 months)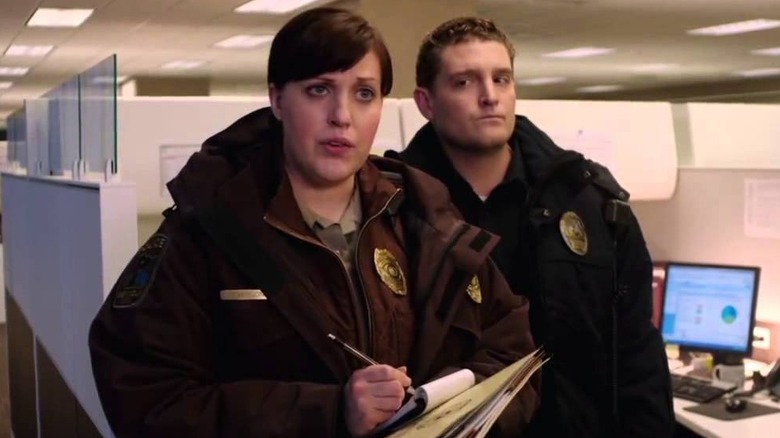 FX
It's a little easier to forgive an anthology show for long hiatuses between seasons for several reasons. First, each season is its own separate story with a beginning, middle, and end, so there's no danger of forgetting where things left off last time. In addition, many of them have different casts, different settings, etc., so it's almost like having to start from scratch each time as if to be building a brand-new series.
Even so, many anthology shows manage pretty tight schedules, from "American Horror Story" to "White Lotus," so the three-year, three-month gap that "Fargo" left between Season 3 and Season 4 is still significant. Not so much based on the Coen Brothers movie of the same name as inspired by it, "Fargo" follows a different group of people each season. The only real connecting thread is a focus on criminals, police who aren't as bumbling as they seem, and loose ties to the titular city. Season 4 was set to premiere on FX in April of 2020, but once again, COVID-19 had other plans, pushing the Chris Rock-starring fourth season out to November of that year.
Even so, Season 4's original April 2020 release date would've still meant a rather substantial 2-year, 10-month hiatus. 
Fawlty Towers (3 years, 4 months)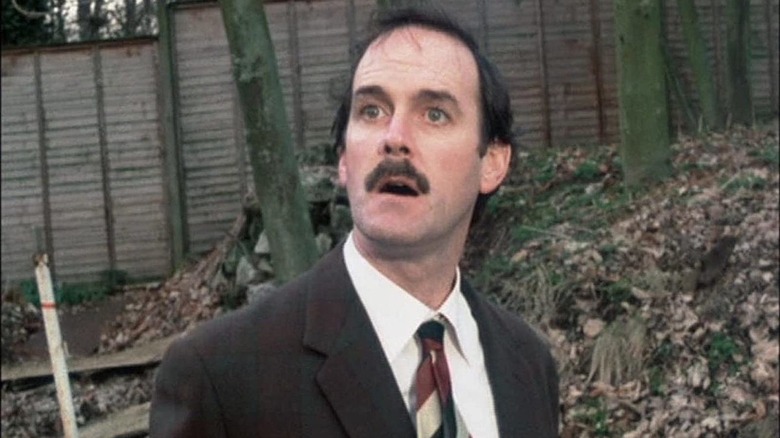 BBC
It was a pretty big deal at the time when John Cleese left "Monty Python's Flying Circus" before the show ended its run. Sure, he remained part of the comedy troupe for decades to come and appeared in all the "Monty Python" films, but it still felt like the end of an era to have "Flying Circus" without Cleese. Of course, once people saw that he had "Fawlty Towers" in the works as his first big post-Python project, all was forgiven — especially in retrospect, as it has since been called the greatest British television show of all time by the British Film Institute (via The Telegraph).
Following the misadventures of inn owner Basil Fawlty (Cleese), every line and every moment in every scene of "Fawlty Towers" is meticulously crafted. It's the kind of show that surely requires full creative energy firing on all cylinders at all times, so it's no wonder that it took close to three and a half years to write, plan, and film 1979's second season. 
Being a British show, "Fawlty Towers" was smart not to overstay its welcome and bowed out gracefully after just two seasons — not to mention that "Monty Python" movies were in full swing at that point and Cleese was back with the old gang working on those at the end of the 1970s and into the early '80s.
True Detective (3 years, 5 months)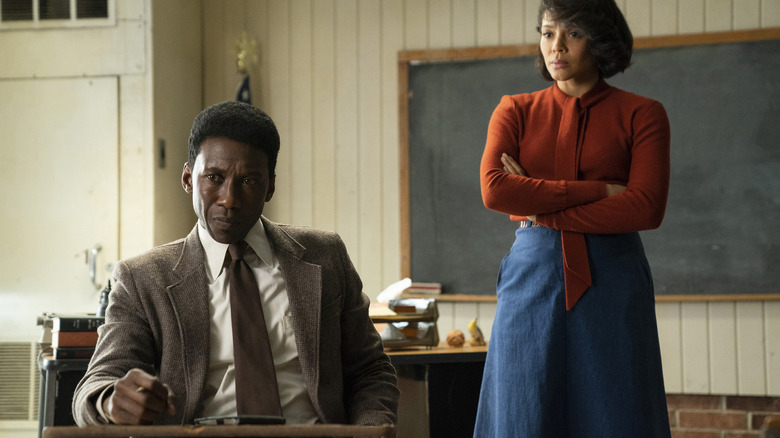 HBO
Another anthology show, HBO's "True Detective" is the kind of series that has the production values — not to mention casts — of a big-budget Hollywood movie, so it isn't remotely shocking that each season takes a long time to make. But there's more to why there was a three-year, five-month hiatus between the show's second and third seasons. After the acclaimed Matthew McConaughey and Woody Harrelson-led first season of the crime drama series, "True Detective" hit a major sophomore slump when Season 2 was received much more poorly than its processor, narrowly missing a rotten rating on Rotten Tomatoes. 
Variety reported that after Season 2, HBO wanted creator Nic Pizzolatto to cede a little bit of creative control and allow more collaboration with other writers than he had for the first two seasons. That back and forth ended up delaying even so much as officially confirming a third season. Eventually, they reached an agreement to finally write, cast, and film Season 3, which starred Mahershala Ali and Stephen Dorff as the lead cop characters and debuted on HBO in January 2019. Although not the smash success of Season 1, Season 3 was at least a step up from Season 2.  
Attack on Titan (3 years, 7 months)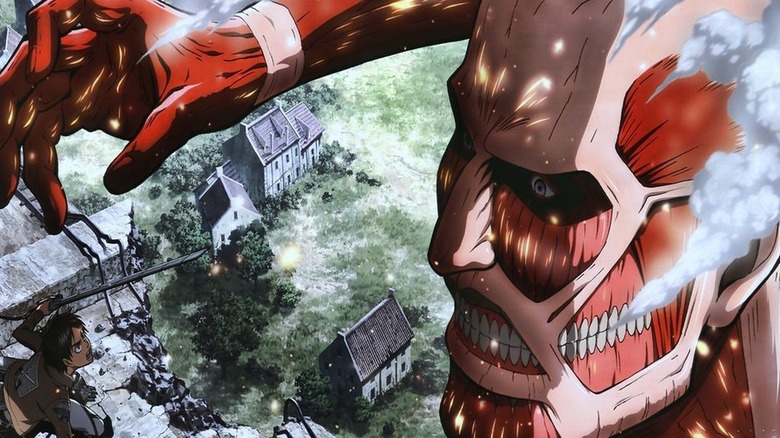 Crunchyroll
It might go without saying that any anime series with production values that make each episode look as good as a movie is going to take a while to make, but there are plenty that fit that description while also never making fans wait too long for the next season. Whether it's because they already have a bunch of episodes finished before the show is even announced or it's just a matter of having a big enough studio to have multiple teams working on multiple episodes at once, anime fans are often spoiled with just how quickly top-notch content is made available to them.
While "Attack on Titan" seems to have gotten a rhythm down from Season 3 onward, with a new season debuting almost every year between 2017 and 2023, it was a little rough to get to that point. After the Season 1 finale in September 2013, there was an excruciating three-year, seven-month wait before the premiere of Season 2. It was ultimately worth the wait, as numerous outlets — from Crunchyroll to IGN and Forbes — have called it one of the best anime series of the 2010s.
Atlanta (3 years, 10 months)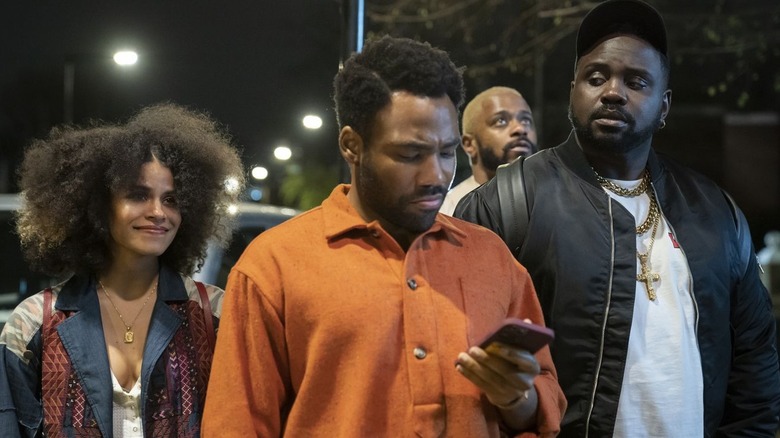 FX
The FX series "Atlanta" had a simple and clearly defined premise in its first two seasons: a guy named Earnest (Donald Glover) helps his rapper cousin Paper Boi (Brian Tyree Henry) establish his career while also contending with an on-again, off-again relationship with Vanessa (Zazie Beets). The show very quickly proved that it was going to be whatever it wanted to be and get as weird as it wanted to be from Season 3 onward. In its fourth season, in fact, "Atlanta" didn't even bother to talk place in its title's namesake city — or even on the same continent (much of Season 3 was also set in Europe). 
Part of that uniqueness came by way of the show releasing new seasons basically whenever it felt like it. Everyone involved has very active careers elsewhere, in a variety of media, so it's probably also a matter of just trying to get everyone's schedules to line up. Either way, there was a substantial hiatus of nearly four years between Season 2 and Season 3. The show's significant tonal shift in its third season and its multiple standalone episodes were already going to be a tough pill to swallow for some, but after such a long way, it ended up irritating a lot of people even more than it probably would have otherwise — though it was still very much critically acclaimed.
Lovejoy (5 years)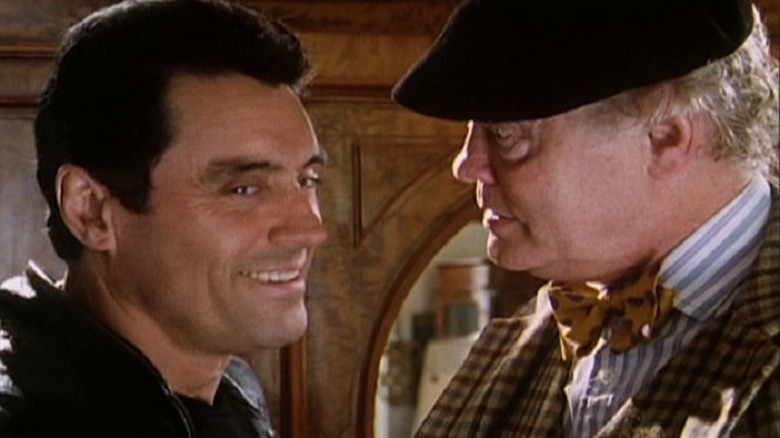 BBC
This one is going to be largely unfamiliar to anyone outside of the UK — but given that it had an absurdly long five-year hiatus between its first and second season, we have to talk about "Lovejoy." Years before his big American breakthrough role on HBO's "Deadwood," Ian McShane was already well-known to audiences in his native England for playing the title role of antique dealer Lovejoy for six seasons. 
There isn't much information to be found for why five years passed between the first two seasons of "Lovejoy," as the series was a hit (per The Guardian) and it isn't as though it featured any huge stars who were simply too busy to do another season right away. Chalk it up to the UK always being willing to play fast and loose with the conventions of television schedules and season structures, and not being afraid to revisit a hit show no matter how much time has passed since its previous season. 
Curb Your Enthusiasm (6 years, 1 month)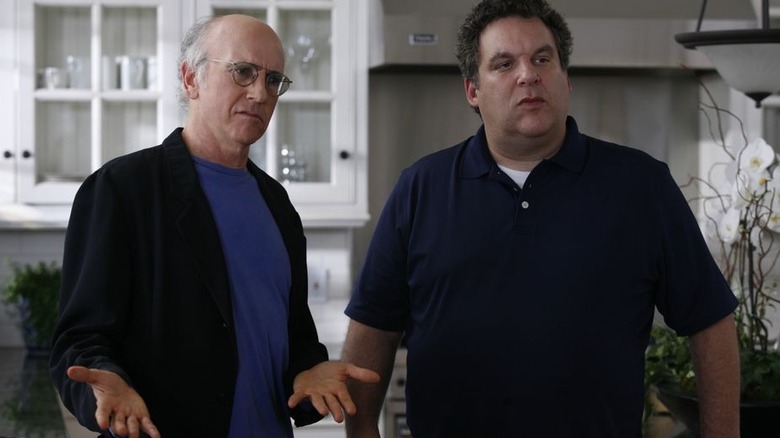 HBO
Larry David made a name for himself by not playing by traditional television rules. First, he and Jerry Seinfeld co-created the so-called show about nothing in "Seinfeld," which reveled in being a sitcom about nothing and remained stubborn in its refusal to play by most of the established rules of the genre. He followed that up with "Curb Your Enthusiasm," another show without any particular "point," which was largely improvised and also featured a number of celebrities playing versions of themselves in an often self-mocking fashion.
With all that in mind, it only makes sense that "Curb" also wouldn't bother with adhering to any sort of traditional season structures. It seems that HBO just sort of allows David to make seasons as often or as rarely as he feels like it — if anyone has earned that kind of creative clout, it's Larry David — sometimes taking less than a year between seasons, and other times taking over six. 
We wouldn't be surprised if "Curb" was never officially canceled or ended by HBO or David, and there eventually comes a point when we just don't get another season and are never given any kind of closure about it.